Visit to the Yucatán 2016
This isn't a travel guide, it's just my notes from 8 days we spent on the Yucatán peninsula in Mexico in January 2016. The first section is a day-by-day account of what we did, the second section has practical, topical notes such as working with Mexican currency, dealing with police, getting around, etc.
Thursday, 7 January 2016
We arrived in Cancún in the late afternoon, but the lines through security were long and we chose the slow line. Tip: see how many security officers handle each line and choose the line with the most officers.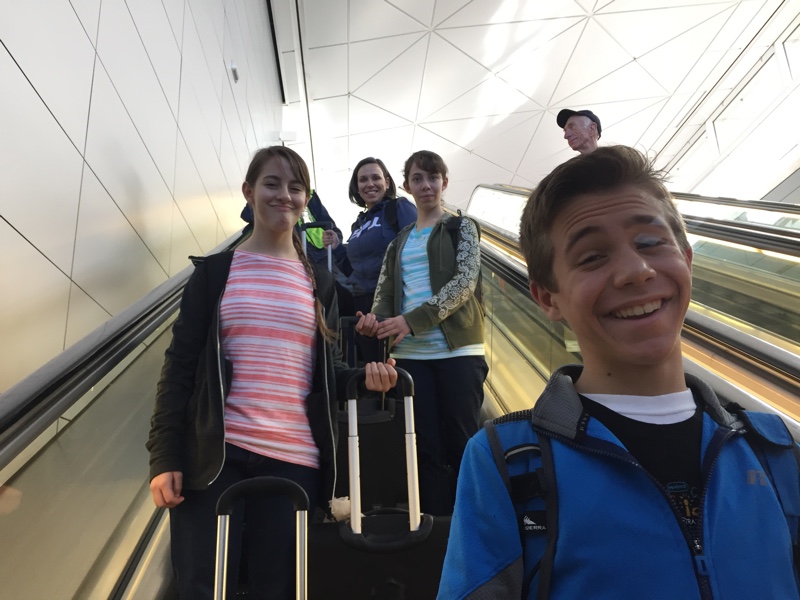 Customs was fast though, almost no waiting—just a courteous greeting and some passport stamping. After leaving the secure area we emerged into the main concourse and right in front (along with several other major car rental companies) was National (any product or company endorsed by Patrick Warburton is OK by me). The man at the desk told us where to wait for a shuttle, but my Spanish was rusty and I wasn't quite clear so we just walked in the general direction he pointed; he chased us down and got us to the right place.
The shuttle took us a kilometer or so down the road from the airport to the rental yard (the drive was less than 2 minutes). The yard is across the street from a gas station so you can fill up before you return the car. In the end, we didn't need to do that as the fuel indicator didn't move from the time I filled up on the last day.
I had read mixed reviews about a half dozen car rental agencies in Cancún. Take everything you read on Trip Advisor with a grain of salt. Yes, the parking lot was gravel, but so is almost everything except maybe all-inclusive resorts ("bubbles of opulence protecting you from reality"). If you're expecting to have a US-like experience anywhere outside of the US and Canada, you should stop traveling. Enough about Trip Advisor.
We made our car reservation before leaving the states through the rental company website. At the counter we had no surprises with costs, but it was a little slow (too few people at the counter). We did the car pre-inspection and I took video while doing it. Be sure to note things like the condition of the wheel wells, below the bumper, door mechanics, and so forth. Our car (a Chevy Trex) made a little insect buzz when we hit certain RPMs, and the rear door stuck a bit, but it got 5 of us around and cost us about $250 for the entire week, including insurance.
From the time we got off the plane to the time we hit the road it was probably an hour and a half. We took highway 307 south. This is the major highway equivalent to a divided highway in the US—it is not a freeway and does not support freeway speeds.
The road signs all over the states of Quintana Roo and Yucatán are excellent, clear and abundant. Speed limit signs are posted frequently and change frequently: stay attentive.
Once you get far enough south on the 307 (toward Playa Del Carmen) you will also find speed bumps (Spanish: "topes") on the major highways, typically near intersections or heavy ingress or egress points. Watch out for these: they are not small bumps you can take at anything over 20 kph but 6" high, 3' deep mounds that span the width of the road and which will launch your car into the air and bring it down with anger, scraping inches off your front bumper, possibly wrecking your axels, and making your internal organs hurt. We saw one truck smack one of these and enjoyed seeing the back end of the truck fly into the air and land with an awkward, jarring bounce.
Another thing to pay attention to: you do not often make left hand turns except at intersections marked for it. On the interstate you will typically drive past your left turn, then make a U-turn and then a right. U-turn areas are clearly marked (Spanish: "Retorno"). We didn't turn left anywhere on the 307 except at intersections with semaphores and left-turn lanes (e.g., Tulum).
We arrived at our condo (Playa Caribe) around 8p or so. I think it took about an hour and a half to drive from the airport. I could have gone faster but it was dark and this was an unfamiliar road.
The building is beautiful and open white stucco, three units per floor, four floors. Ours was #11 in the center of the 4th floor.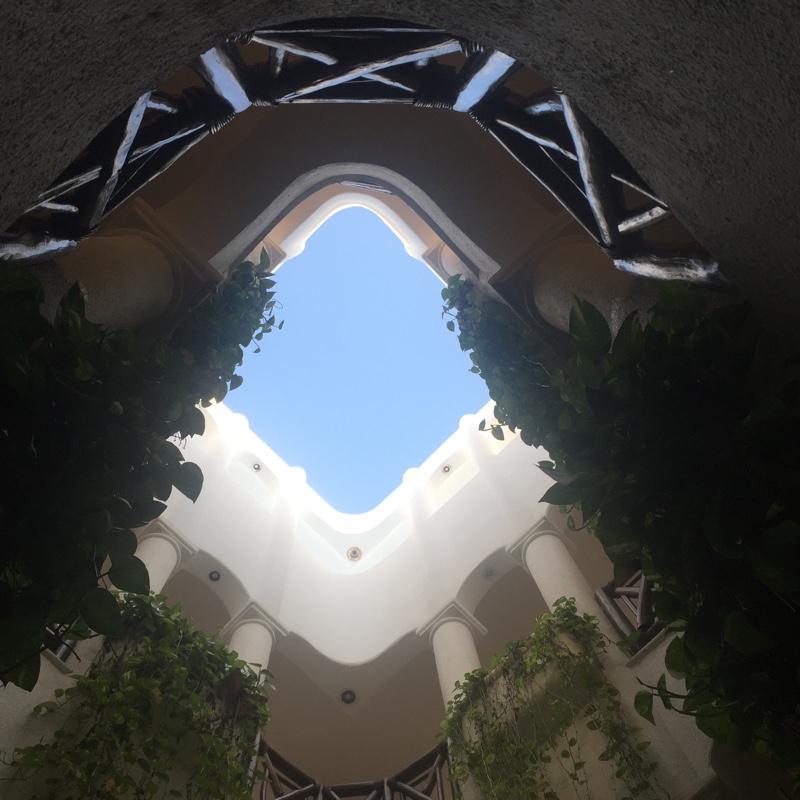 We had emailed the manager earlier in the day letting them know we would be late and they replied they would leave a paper on the office door explaining what to do, but when we arrived there wasn't any evidence that we were expected. Fortunately the night guard (José) greeted us and immediately set into action. He was winging it a little because he wasn't authorized to do this, but this was an example of trust we saw over and over while we were in Mexico.
José showed us our condo and introduced us to some of the amenities (he seemed keen that we notice the flashlights for nighttime walks). José is a talker too: friendly and full of good local information and opinions.
After we settled in, we walked a few hundred meters (about a 5 minute walk) to La Buena Vida for dinner. We got there almost at closing so we ordered quickly (Santa Fe beef burrito for me!). There was still a mariachi trio playing at another table while we waited. Our table was in the sand about two meters from the beach. The service was prompt and the food was delicious. La Buena Vida is one of those kinds of restaurants that you can visit for every meal anytime you feel like it (which we did).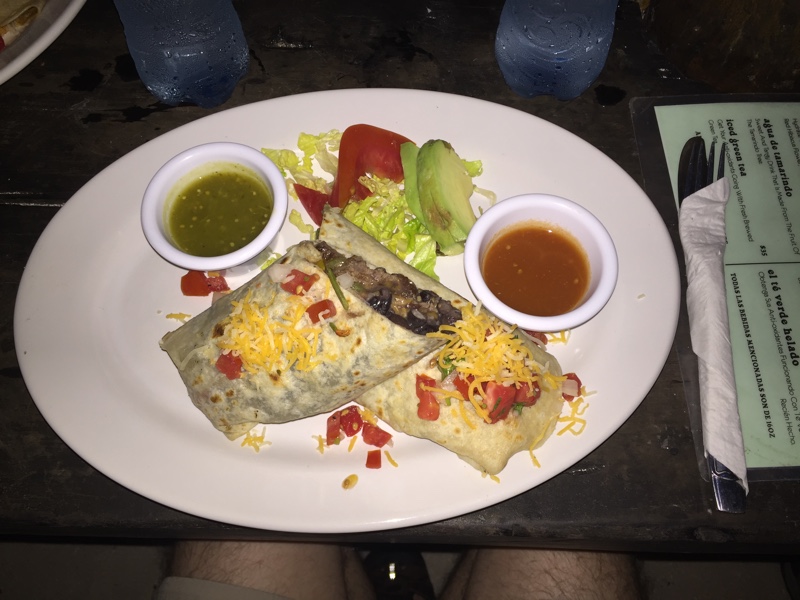 We went back to our condo and slept with all the windows and outer doors open and an ocean breeze blowing over us. A black bird that looks and walks like the birds on the beautiful Monument Valley game woke us up several times in the early morning. Besides the regular crashing of the ocean waves, the bird was the only sound we heard all night.
Friday, 8 January 2016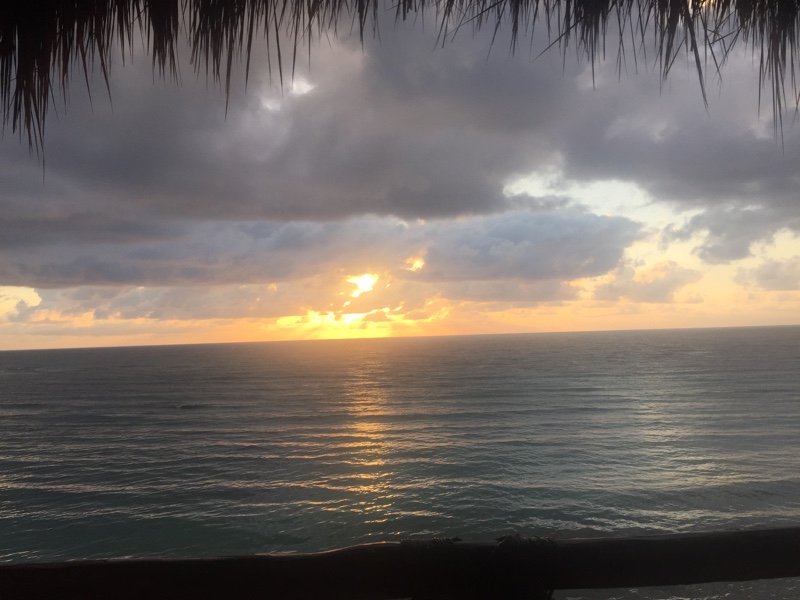 We ate breakfast at La Buena Vida on the beach again. I had an omelette; I asked if there was any hot sauce (Spanish: "salsa picante") and in a few moments they brought me a small cup of freshly chopped peppers: definitely a habañero and probably a jalapeño and poblano in there too. Amazing (and rather hot).
After breakfast we got dressed for snorkeling and went down the road a little to Akumal Bay and found a sea turtle and plenty of beautiful fish (sergeant majors, groupers, etc.). Sunny, warm, beautiful water.
We snacked a little for lunch and Ana and I drove to the grocery store in Puerto Aventuras (Super Chedraui) which is about a 10 minute drive north of Akumal. The store carries almost everything you could want and many unfamiliar items if you're from the US.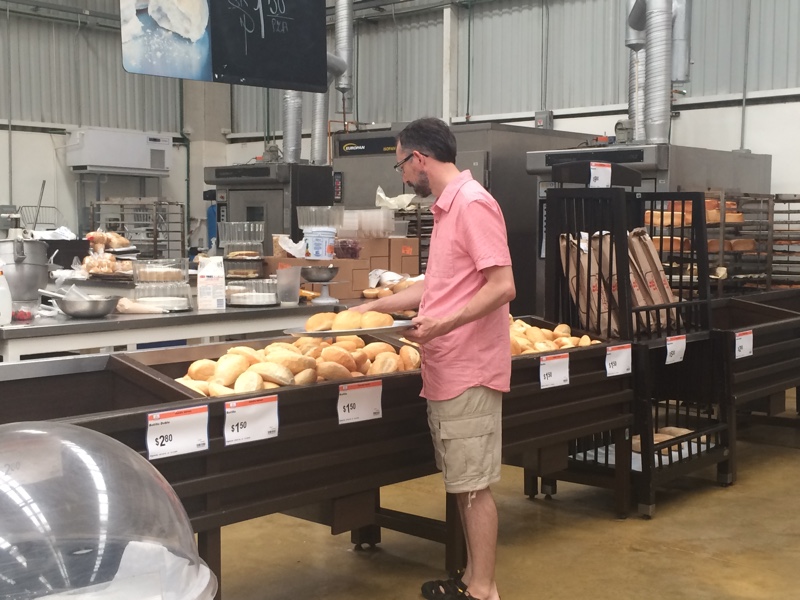 For dinner we ate at La Lunita which is a couple hundred meters from our condo in the opposite direction from La Buena Vida. La Lunita is a tad pretentious: higher prices without a corresponding qualitative benefit. The atmosphere is quieter and closer to what you would expect from a finer restaurant, but while the dishes were "fancier" they weren't much better; my opinion is the chef is out of his league a little here. It was still an excellent meal and worth the experience, but not a repeat on the same trip; we'd go back again on another trip perhaps.
Saturday, 9 January 2016
Saturday we went to the Tulum ruins (cost: 65 pesos per person) first thing in the morning before the crowds. We decided to pay for a guide who gave us 45 minutes of his opinions in barely intelligible English; our kids were completely lost but it didn't really matter since he spent a good deal of time talking about his language fluency, how the Mayans look like the Chinese, and how the Tulum priests used religion and astronomy to control the people. Over and over. Lesson learned: test potential guides' English skills and knowledge; best to book reputable guide in advance. Would not buy again.
After our guide left us, we then spent another 45 minutes or so seeing the rest of Tulum our guide had ignored and read things from the Internet from archeologists whose life's work it is to understand these kinds of things. It turns out that nobody knows a lot because all the people who could have told you about things have been dead for centuries. Guides either make stuff up or talk about things only marginally related to the ruins.
After the ruins we drove south into the next bay and swam a little (the next private beach is El Paraiso; the one we visited was public). Nice clean beach. Paid the police officer $2 for "keeping an eye on the car" which he told us he'd do while we parked at the public beach. This was the only time I gave a police officer any money, and it was more of a tip after the fact.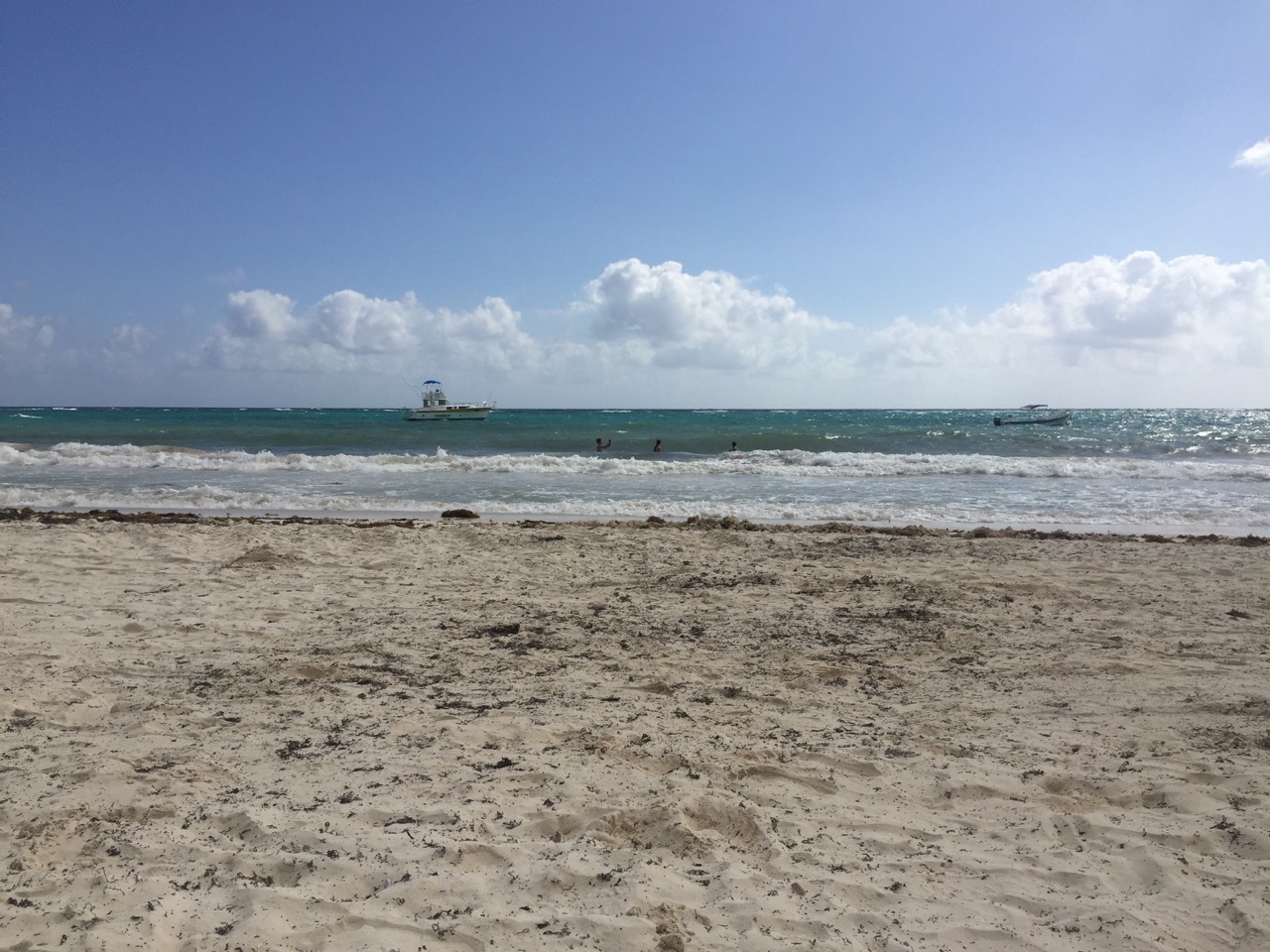 For lunch we drove into Tulum and found Pollo Bronco and between 5 of us ate a roast chicken and a half, which included tortillas, rice, cabbage and chilled bottled water. Total cost of lunch for 5 (including tip): 340p or $20. Would buy again (and again).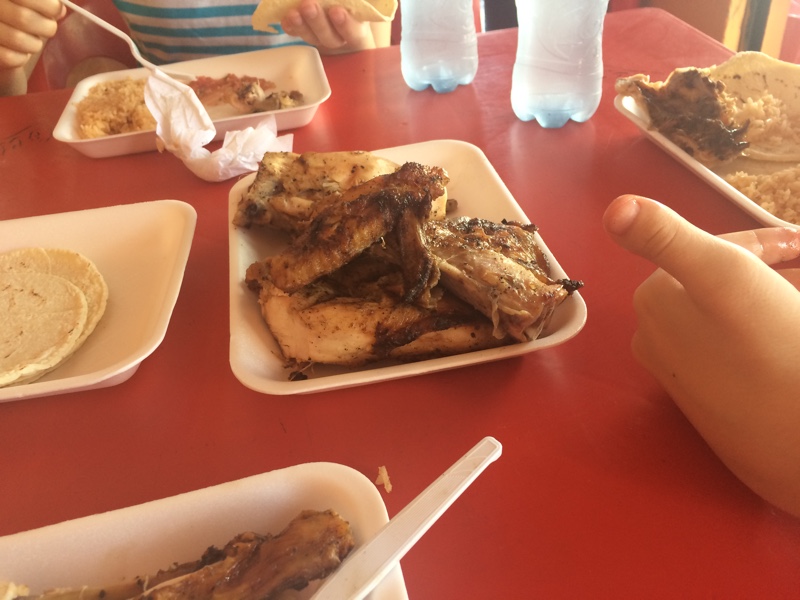 We went back to our condo to rest up and play on the beach. We went to dinner at La Buena Vida upstairs in the loft overlooking the beach. Then a little grocery shopping in Akumal (Super Chomak has a lot of American items, including Costco's Kirkland Signature milk, which surprised us).
Sunday, 10 January 2016
Sunday we went to church in Playa Del Carmen. The address on lds.org isn't enough data for Google or Apple maps; fortunately (and amazingly) Ana saw the church when we were coming in our first night. It's right off the 307 on the seaside (east) in Playa Del Carmen. We visited the Barrio Zacil Ha at 11a. Friendly and earnest. We spent the afternoon reading and walking along the beach back at our condo.
Monday, 11 January 2016
Monday we went snorkeling in Yal Ku, a freshwater inlet that mingles with seawater, creating an odd turbulence in the water, like looking through heated air over a flame. I had brought my new Lifeproof Frē case for my phone, but after one test run found that it had a leak, which turned out to be the audio jack plug had come loose (I remember playing with it and must have forgotten to tighten it down again). No harm done in the end (good job, Apple!), but it spooked me enough not to use it that day, which was a shame because we saw a lot of fish.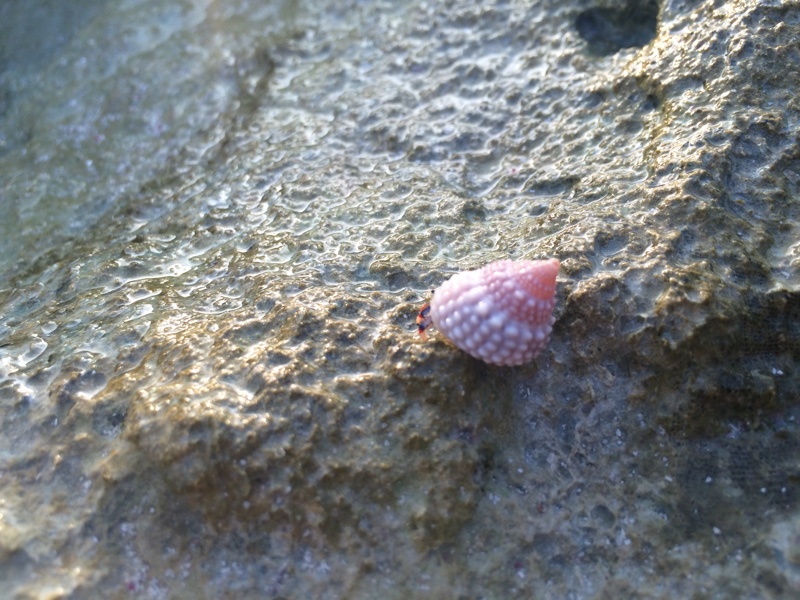 Yal Ku is beautiful and feels special still—the friends of the lagoon have preserved it well. We arrived early enough that the park was quiet and had few guests besides ourselves while we were there. For beginning or early snorkelers, it was a perfect experience. The rock formations and variety of fish created a magical feeling.
On our way out we noticed Que Onda, which I had read was closed, but it didn't look closed so we went back for dinner. They had been closed for a while but they have new owners who are running the hotel and restaurant, and they're doing a good job.
The restaurant is cash-only (Spanish: "efectivo") and I was a little short so we were about to leave after explaining the situation to our waitress.
She said (in Spanish), "No problem. Just come back tomorrow or Wednesday and pay then." Again, that seemed like a lot of trust to me, but we were grateful and the food was delicious. The menu is primarily linguini with your choice of 17 sauces and toppings, but they also have salads and a few special menu items. The flan was excellent for dessert. We wanted to come back for breakfast but in the end didn't have time.
Tuesday, 12 January 2016
Tuesday we went to Chichén Itzá (which I learned this trip is accented as intended: chee-CHEN eet-SAH, not CHEE-chen EET-sah; cost: adults 167 pesos per person, children 12 and under free). We gassed up at a Pemex on the 307 before we got too far south of Akumal and then drove two hours to Pisté and the archeological site. The great pyramid (aka The Castle or The Temple) is impressive, but access has been quite restricted in the past few years, which is understandable. I read somewhere that the site receives 3500–8000 visitors per day.
We arrived just after opening, which is a funny story: we had intended to leave our condo by 6a so we could be there by 8a, but because of how our family rolls, we didn't leave until about 7a local time. What we didn't know is that we were on the western border of a time zone (equivalent to EST) and so while we left an hour after we'd intended, we arrived at Chichén Itzá at the perfect time: half an hour after opening at 8:30a local time. Had we left on time we would have had to wait at the park entrance for an hour to open.
We had the great pyramid to ourselves; we took photos with only our family in the shot—it was great. We missed all of the large tours coming in by hitting the "big stuff" first (pyramid and ball court, the later buildings at the north end) and spent the later part of our visit going to the more obscure and older Mayan ruins at the south end.
Vendors line almost every path in Chichén Itzá and some of them will tell you amazing tales ("My grandfather made this necklace." "Really? Why do all these other tables have the same thing?" Stuff like that.)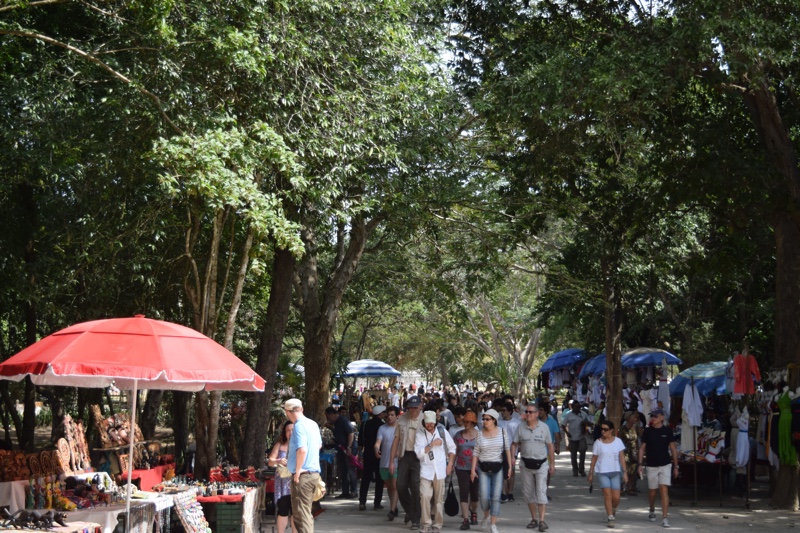 On our way out we haggled over some souvenirs just for fun…I didn't buy anything in the end, but Ana found some blankets she liked and the girls found some lovely silver jewelry. I found that I could have purchased a 12" chess set of onyx and rose quartz for $20. The pieces are machined to look almost hand made, but it's the same stuff everywhere. The seller started at 850p which is about $50. The smaller 7" sets started at $20 (I probably could have gotten that down to $10) but I didn't want to lug a heavy stone chess set home.
We left the park just as more and more busses came in; the line was out to the parking lot by the time we left.
We found another awesome pollo asado shop in Pisté (the city just outside of the Chichén Itzá) called Pollos asados al carbon "La Esperanza". We spent 265p + 50p tip (about $17) which included soda and water. This was less expensive than Pollo Bronco in Tulum, but was not quite as good (but I would definitely go back any day—this is real Yucatán street food).
We got back on the toll road (64 pesos or $3.60) and went back through Valladolid and visited Ek' Balam (cost: 128 pesos per adult, children 12 and under free). I'm a little reticent to write about Ek' Balam—this is the real deal and what Chichén Itzá used to be. It's an active archeological site with tons of stuff not yet excavated, but plenty that is which is beautiful. This place was quiet and sacred somehow. I counted about 50 people in the entire site at any given time. When we arrived we had the place to ourselves.
We drove back late; I put another 100p ($5.60 at the current exchange rate) worth of gas in the car and we drove home as the rain came in. The kids made a nice spaghetti dinner from food we bought the day before.
Wednesday, 13 January 2016
On Wednesday the rain stayed and kept things a little cooler (about 80°F instead of the near constant 86°F), but by early afternoon it was warming up, so Cassidy and I went snorkeling in Half Moon Bay in front of our condo. We found a few large coral growths with lots of fish and interesting plants.
A bit later we drove into town for some shopping (I had my Kindle and read in the car while I waited). We had dinner at La Buena Vida; Preston wasn't feeling well so we came home with a little urgency so he could take a hot shower and go to sleep.
Preston evacuated his stomach around 10:30 p.m. and was able to sleep for a few hours until 3:30 a.m. when he vomited again what little was left. We suspect he put his mouth on a contaminated jaguar call at a local souvenir shop, but we're not certain. Nobody else got sick.
Thursday, 14 January 2016
Around 6:30a, the wind cranked it up to 11, making a loud moan in the kids' room. I heard it but didn't wake enough until 7:00a when Ana got up to do something about it. I finally wedged a flexible plastic cutting sheet between the outer and inner sliding doors to remove the play in the outer door where the vibration was occurring and we all got a little more sleep.
Later in the morning we took separate walks on the beach. The sun came out but it was still breezy and cool. At noon I took Brooke and Cassidy to the Santa Cruz cenote about 2 km north of Akumal Pueblo. A cenote is a limestone sinkhole filled with water, or rather, that exposes the water table. The Yucatán has hundreds of these holes (maybe thousands) and most of them are connected by caves or other tunnels. It was beautiful and intimate. The Santa Cruz cenote limits visitors to small groups three times a day and only take reservations by email. Plan ahead (we were lucky and got in the next day at noon). Recommended.
After returning in the afternoon, we rested and ate then rested a little more. It was too stormy to go out so we read and played some card games in the condo and went to bed.
Friday, 15 January 2016
Friday morning was beautiful, warm, and bright—just what Ana needed. We ate a little, packed, and Ana and the kids went on a walk on the beach while I dozed. Something about changes in my diet nearly always upsets me a little. I'm more sensitive than I'd like to admit. When everyone came back we picked out shells to take home, loaded the car, then I went to fill up the tank at a Pemex just south of Akumal on the 307 while everyone else went shopping.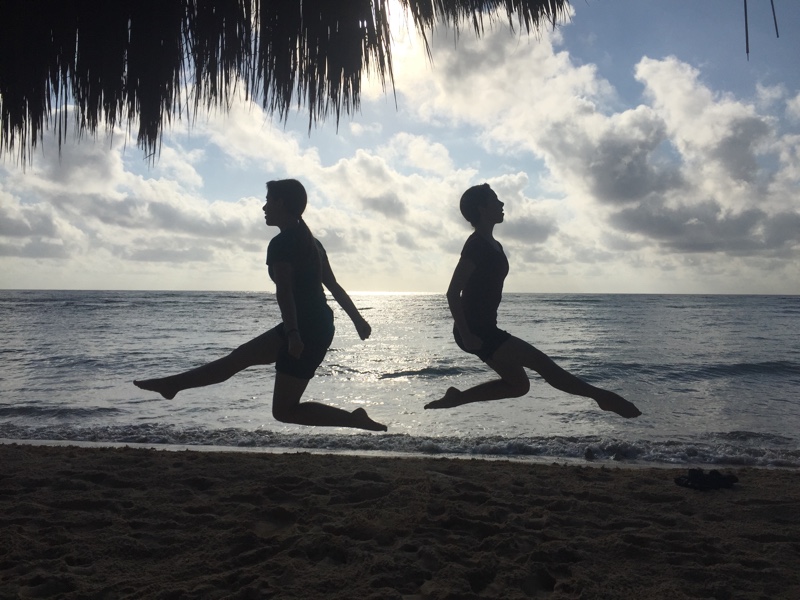 We went back to La Buena Vida for a quick lunch (quick is not their specialty—you have to ask for the check (Spanish: "cuenta") or you'll be there for hours), bought one or two more souvenirs for the kids and hit the road. We made good time, a little over an hour and a quarter I believe, back to National. The rental car drop off was smooth and quick (good job National!) and the shuttle driver got us to our Cancún terminal in about a minute (50p tip for you, driver. Good job).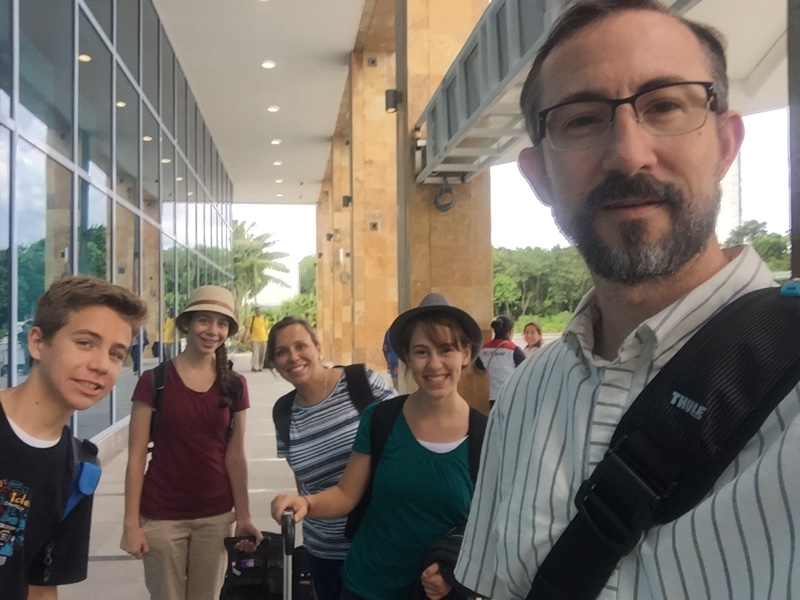 I had printed our boarding passes at our condo office (the manager just let me use his computer to do whatever I wanted—remind me to change my Google password. I'm gonna miss that password) so we went right to security. Security is nice in Mexico: shoes stay on and a metal detector is miraculously sufficient to keep us safe.
As soon as you exit security you are assaulted by a shopping mall complete with several perfume counters. We had 2 hours to wait (our CheapAir notifications told us our flight left at 4 p.m. which made us panic a little and rush. A subsequent check at the airline confirmed our original 5 p.m. departure). We read a lot and charged my phone on one of the hard-to-find outlets.
The flight to Phoenix started bumpy and we were told we'd be late but the pilot fooled us and we arrived early. We went through customs without any trouble; it's slightly automatic now: you scan your passport in a machine and receive a ticket that gets stamped at the actual customs declaration, then you give the stamped tickets to someone as you leave the international terminal.
We sauntered up to the main concourse and ate dinner at Smash Burger; Ana realized that we probably had to go through security again, and that we were going to be late. We hustled as best we could, missed our boarding call, had to check bags at the gate and wound up waiting 15 minutes for 4 or 5 passengers making a late connection. Smooth.
We touched down in Salt Lake City on time and found it just as cold as when we left. Glad to be back!
The rest of this entry is about specific topics we encountered while we were traveling in no particular order.
Safety
We felt as safe here as we did in the US. The US Department of State lists advisories for Mexican states and none of the states in the Yucatán peninsula have any active advisories (the closest state with a significant advisory is Guerrero, which is on the Pacific side).
Car insurance
When you rent a car in the Yucatán (probably all of Mexico—I haven't researched this well), you must purchase Mexican liability insurance. This is non-negotiable (Mexican law) but all car rental companies offer it. But they do not all offer it at the same rate, so shop around.
You can also buy a variety of other insurances, but they are not required by law like liability is. American Express offers a $25 flat-rate, per trip international car rental insurance ("Premium Car Rental Protection") that covers everything except liability. If you have an American Express card, I highly recommend it. You will save hundreds of dollars and get a US phone number you can call when something goes wrong. We did not have to invoke this, so I can't tell how well it works, but it saved us a lot of money anyway.
Souvenirs and haggling
Chess sets, blankets, jewelry, shiny rocks, t-shirts, dresses, ponchos—it's all the same and you'll be lucky to find something unique. Most of it is mass produced to appear hand-made, and most of it is garbage. Local vendors claim the "heavy" ponchos are Mexican while the "light" ones are Chinese.
The round Mayan or Aztec calendars are plaster with a varnish on them (one seller tried to convince me it was limestone, which it sort of is…I thought that was funny). If you find something you really like, you can often get it for less than half of what they're asking, depending on where the shop is. The best places are where you find dozens of sellers (Chichén Itzá and Tulum downtown). The more sellers in an area the better bargaining power you have.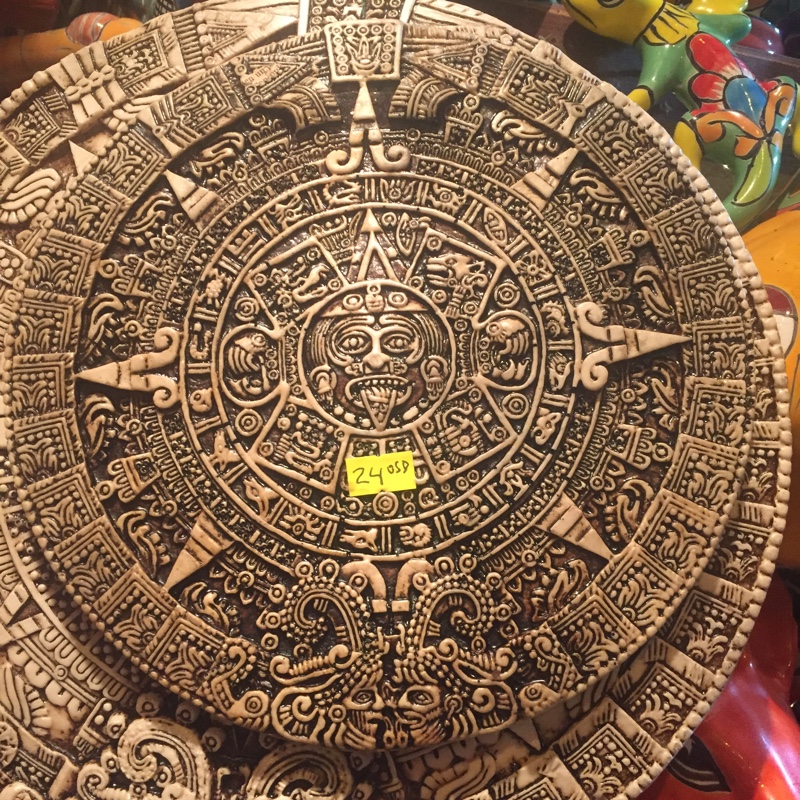 Remember that you can also haggle over the price of your accommodations. We talked with one gentleman from Canada who got his large condominium down to $200 per night by haggling with the manager by phone before he left Canada.
Toll roads
The toll roads are well-kept and comparable to a four-lane divided highway in the US. We paid about $3.50 (64p) to drive a few dozen kilometers… it wasn't a great rate but as seldom as we drove on them, they saved us enough time to make it worthwhile.
Time zones
Yucatán (and most of Mexico) is on CST but Quintana Roo (state where Cancún, Playa Del Carmen, Cozumel, and Tulum are located) is on EST. Didn't know that. Gives you an extra hour when traveling to other states.
Money
Prefer using pesos whenever possible, but pay attention to the exchange rate. Most places charge a premium to accept US dollars but in a few cases dollars are less expensive. It's good to figure out a quick mental exchange rate to ensure you're not getting ripped off. While we were in Mexico, the exchange rate was between $0.056 and $0.0611 per peso; take pesos (e.g., 600 pesos), divide by two (300), move the decimal left one (30) and add 10% ($33) to get a rough estimate in dollars.
Every ATM I used charged a flat $1.50 per transaction (it looked different every time I used the ATM, due to the fluctuating exchange rate). We spent about 2,500 pesos on dining where credit cards weren't accepted and 3,500 pesos on park entries, gas, tips and other stuff. If they accept cards, be sure they charge in pesos (unless dollars is less for you, then be sure to ask them to charge dollars). Merchants have the option to select the currency but default to pesos. That's usually in your favor.
Pemex gas stations and most popular restaurants accept Visa credit cards. Large grocery stores accept Visa and Amex. I wish I'd had a better Visa than the crummy one my credit union offers.
Another thing I learned after combing through my expenses: Amex charges a foreign transaction fee that is 2.67% of the amount of the transaction, effectively cancelling out any rewards you might be getting from your Amex. Lesson learned: avoid using Amex in Mexico. This is too bad—I love my Amex in the US, which usually makes the merchant (and by proxy, non-Amex customers) pay the fee.
Tips
Use cash only but pesos or dollars doesn't matter. Everyone is happy to receive cash. The dollar has been strong lately and since October 2015 has been steadily gaining on the peso. Seems like Mexicans would prefer dollars as a store of value if they can get them.
One grocery bagger mentioned they work for tips so I gave her $2. The next day I noticed that none of the locals give tips to their baggers. No subsequent baggers even hinted at tips. If you look like a wealthy foreigner, you might get more pressure from experienced baggers. I find that tipping someone for a little extra service almost never hurts me.
Police
We had heard stories about police corruption and bribes ("tips") to get out of tickets, etc. We didn't see any of that in the Yucatán states. Quintana Roo and Yucatán (we didn't get into Campeche) have a sizable police presence that seems squarely designed to make visitors feel secure. We tipped one officer who was watching the parking lot of a public beach as we left.
Our other police encounter was when I was driving backward down a one-way street (Spanish: "sentido" is "direction" when it relates to traffic) and tried to merge with lateral traffic. He politely told me I was going the wrong way; I played "stupid Americano" and gesticulated somewhat exaggeratedly and spoke in simple English phrases: "Can I go that way?" until I found an option he accepted. No ticket, no bribe, stupid Americano driver, no problemo.
Water
Our condo had a building-wide reverse-osmosis system. The water was safe and tasted great. We used it to fill up our empty plastic Cristal bottles. When dining, most restaurants in the tourist areas use filtered water anyway and is safe to drink. If you're paranoid, you can ask for Cristal or soda in a bottle (Spanish: "en botella").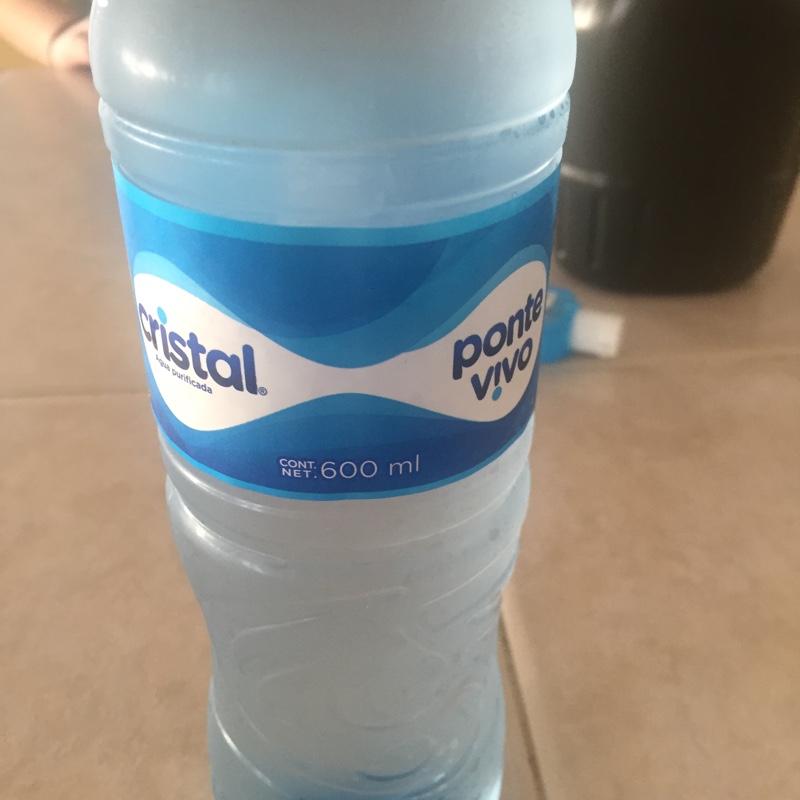 Navigation
Don't abandon your common sense; trust signs more than GPS apps. Locals are hit and miss for directions. I had good GPS reception but poor precision. Granularity fluctuated wildly everywhere we went from 1 meter to several hundred meters, usually on the several hundred meters side. This can cause problems if you're on a road that's parallel to another one, but most of the time it was fine. Another gotcha with that poor of precision is that you miss turns if you're depending on GPS. Read the signs and you'll be fine. Signs in the Yucatán are clear and plentiful.
I had different problems with Apple Maps vs Google Maps: sometimes Google maps refused to accept my "current location" (even after quitting the app and restarting it), so I'd switch to Apple Maps. Sometimes Apple Maps didn't have the right address or took me to the wrong place. By and large Google did a better job getting me places. Seems like the Apple software had fewer bugs, but Google had better map data. Both routed well enough given the destination was accurate.
Parking
In Spanish, "parking" is "estacionamiento". If you see a sign with a capital "E" and a slash through it, that means no parking. Prepare to pay a couple of dollars (typically 50 pesos) for parking in most public areas. In towns there is ample free parking on the street (usually parallel but sometimes 45°) if you drive around enough.
Beaches
The Mexican federal government owns all beaches along the Carribbean (might be all of Mexico—have not researched this), so you can walk wherever you want, but they do allow private companies (e.g., resorts, etc.) to restrict access from the road across their private property. If you're on a beach, you can go along the waterline as far as you like in any direction, but you may not go inland into private property, which will usually be marked.
We stayed in a condo on Half Moon Bay; apparently from time to time there are some kind of plant blooms that create a mess in the water and then that washes up in the sand. We had a bloom when we arrived; you can also see the band of debris on the sand. Workers rake up the detritus every morning. By the 3rd day the bloom had passed and the water was mostly clear again.
Getting gas (petrol)
All gas stations I've seen are Pemex—Petróleos Mexicanos, a state owned gas company—and are full service. Some attendants wipe your windows. Tips seem expected on the 307 highway but one attendant seemed surprised to receive a tip on the Chemax-Cobá highway. I didn't see locals tipping, but I wasn't always paying close attention.
You can specify an amount of money or a number of liters; they set the machine and start it. It automatically stops at what you ask for. You can also ask to fill up (Spanish: "¿se puede llenar, por favor?") and they'll just let it run. I estimated our car had about a 10 gallon tank, roughly 40 liters and that turned out to be really close. 20 liters looked like half a tank.
I had heard stories about getting ripped off at Mexican gas stations, but that didn't really seem likely or easy to do. I paid close attention, but never saw any indication that anybody was trying to do anything funny. It's a state owned company and I don't think attendants get paid more if they charge more. Urban legend? I had good experiences gassing up in the Yucatán.
Tour guides
Make sure you get one whose English is clear. Test them before hiring them if you don't speak any Spanish. Ask them questions that they're unlikely to have prepared answers for. If the English is barely acceptable, you might be able to haggle based on it.
All guides will present speculation and early, inconclusive research as fact, so just take everything with a grain of salt. It's also good to research ahead of time a little bit about what you're looking at so you can ask intelligent questions. The "References" section of Wikipedia articles is a good place to start.
The best way to get an excellent tour guide would be through people you know who have had one. Save the names of great tour guides and share them on Trip Adivsor and such.
Wireless data and voice
We called T-Mobile to enable voice while we're traveling out of the US (cost: $10/month—no brainer). Our condo had wifi, but it was slower than 3G. Cell roaming provided by TelCel and Movistar. Overall, we had excellent coverage, though non-LTE data was slower than what I'm used to. Sometimes I hit an LTE radio and got great speed. Nice to back up photos and movies with.
I'm not sure why speedtest chose Illinois for the closest host, but I still got pretty good speed.
Video in parks
I had read before leaving and also saw in archeological park ticketing stations that an extra fee applied for taking video; after being there I believe it applies only to professional videographers because I took a ton of video and no park officials seemed to mind at all.
Waterproof phone case
I researched a little and finally went with the safely rated Lifeproof iPhone Frē case. It's kind of incredible, but be sure the audio jack plug is screwed in tight. I had a leak because my audio jack wasn't in tightly; in the end it was all fine—the iPhone has some water resistance (If you listen to the underwater clip in Yal Ku, you can hear the air bubbles leaving the phone case as water gets in).
Lifeproof audio problems: the audio in my videos is a bit muffled with the case on. Phone calls are terrible with the case on as well: I had to go to speaker phone every time because nobody could hear me talking.
Also, if you're going underwater, mash record before your finger and case are wet because swipes and touches don't register. I missed a bit of good footage underwater because I couldn't start recording. Push the record button before you go under and edit it later.
(Note: My son Preston pointed out that you can use the iPhone volume buttons to start/stop video recording. I think I knew that, but, duh.)
Useless items
A list of things I took but didn't use:
swimming goggles (I did use my snorkeling mask)
extra swim trunks and shirt (everything dried by the next day, but I have light materials)
passports outside of airport and rental car office
lip balm (moist climates are great)
padlock (everywhere we rented a locker included a lock)
iPad: the kids used it to watch movies at night, but I didn't use it
water filter canteen (we were able to buy bottled water everywhere we needed it, but pretty much stuck to tourist areas)
a paper notebook (I usually write everything in my notebooks, but found my phone more convenient while traveling)
Useful items
Some items I was surprised to use:
light jacket (we had a day of light rain and cool breeze)
a pen (dearth of pens in our condo)
Useful links
Technical discoveries
Some assorted technical discoveries:
Wunderlist app doesn't work without an Internet connection. My session had somehow timed out and I couldn't use it until I got back into range. That's terrible: it should have local offline caching and sync up when it can later.
Electricity: Mexico uses 110V, 60Hz and the same outlet configuration as the US—no adapters needed
I read a ton on my Kindle Paperwhite. Love that device.
Use Vesper for keeping short term notes (Vesper seems abandoned… I've been using Byword instead), Day One for long term notes. I frequently export Vesper notes into Day One. I wish the date/time were imported too, but I'll often do additional editing so it's not a big deal. Long term notes I want to share publicly (like this) get re-edited and posted via Ghost
Instapaper for reading articles offline on the phone. Instapaper just gets better and better.
Sleep Machine has some fantastic bird sounds that almost completely masked the jarring black bird cawing in the wee hours of the morning, helping us get enough hours of shuteye.
That's the news, and I'm outta here.
---
Last modified on 2016-01-20