We took three days during the autumn school break to visit Mesa Verde. Ana and I visited last when we were newly married.
I won't be posting many pictures of the ruins in the park—others have far better pictures than ours.
Thursday: Dead Horse Point
We first stopped at Dead Horse Point. The air was a little dusty: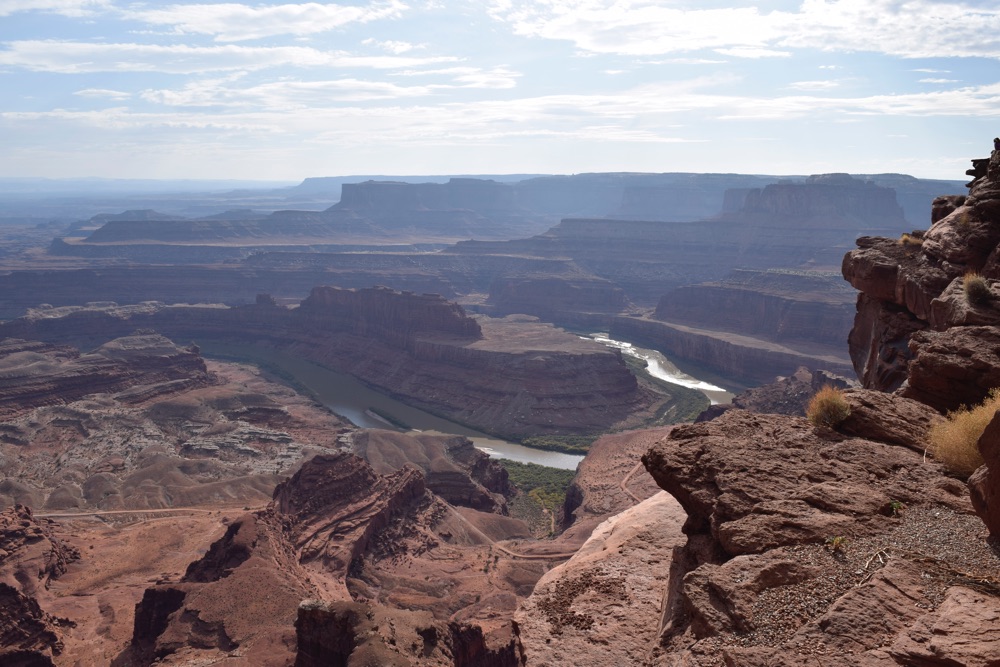 We ate in Moab at Zax; I had the Beef Hobo—recommended.
Our first happy accident was that the waiter dropped Preston's order on the ground just before our table, and had to make another one quickly. They then comped us that order—we protested because we only waited a couple of minutes more, but it was already done. Everyone enjoyed their meal.
About 2/3 of the way from Moab to Monticello is this mound of rock just past the SR-211 turn. We drove past at sunset: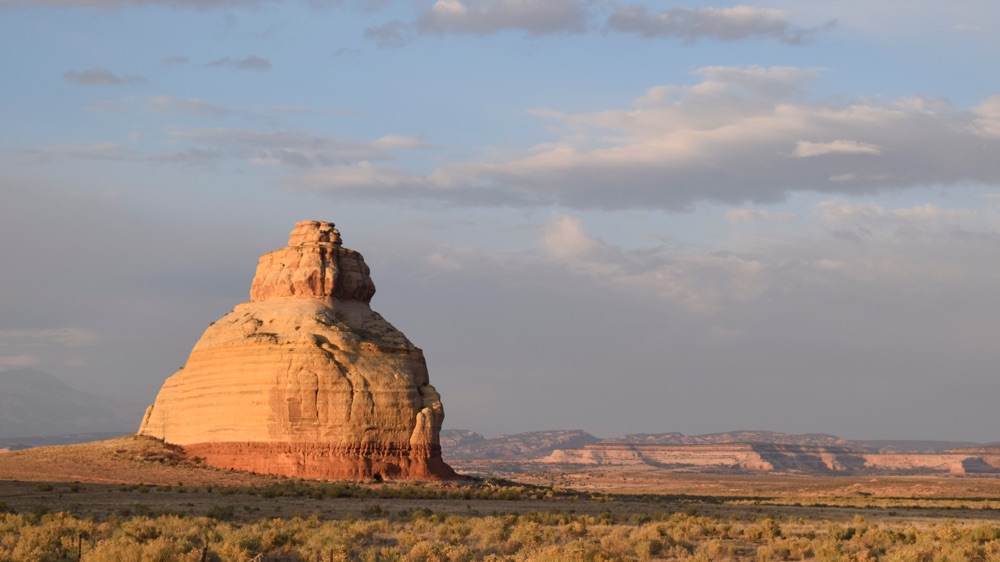 And looking west: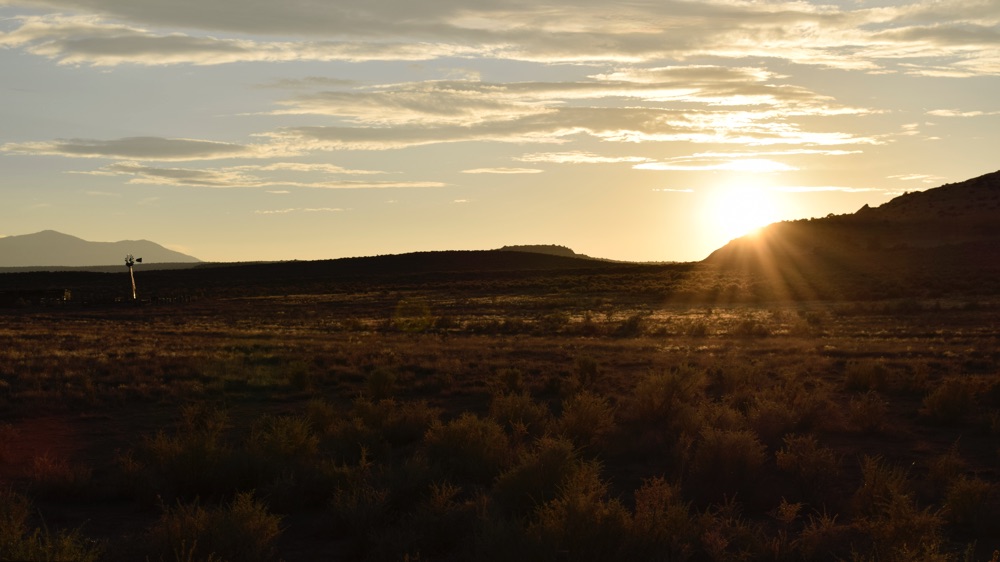 Mesa Verde Arrival
We drove into Mesa Verde National Park late and the toll booth was closed. We figured we'd pay somewhere in the park the next day or at the latest on the way out.
After maybe 15 minutes of driving into the park, I pulled off the road in a turnout and turned off the engine of the car. We all got out and saw for the first time in some years all of the stars. I admit it was breathtaking. As a suburbanite I am accustomed to the grey blanket of night and forget what the glorious heavens really look like.
Friday
Friday morning I left Far View Lodge (where we stayed) to go to the ranger station to buy tickets for ruin tours. We learned—and this is something I should have learned before we came down—that tickets start selling at 8:00 a.m. at the visitor's center at the north end of the park, and at 9:00 a.m. at the ranger station, near the south end of the park. To drive from one end of the park to the other is not quite an hour's drive.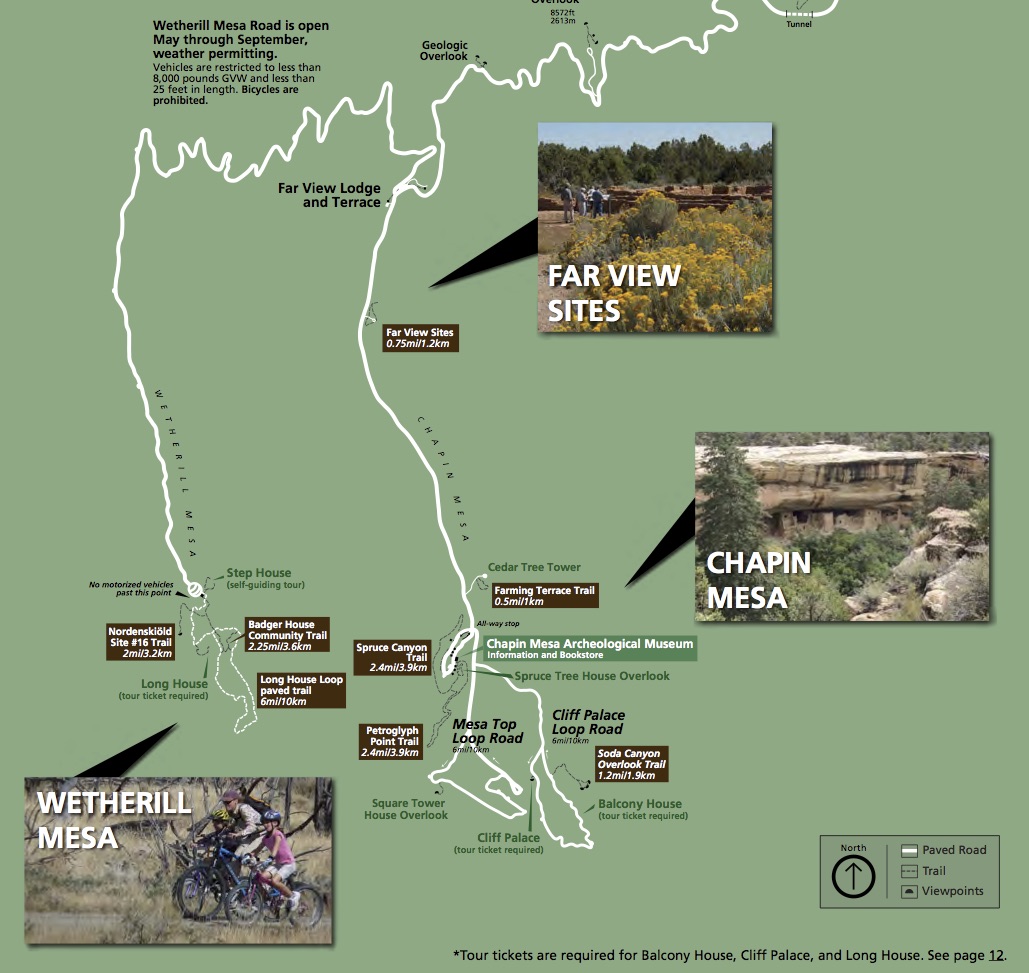 Tickets go on sale two days before, so all Friday tours were booked already, and what was left of Saturday was booking as I was waiting for the ranger to arrive. We were able to get the last 4 tickets to a late Saturday morning tour of Balcony House (more on that later).
Wetherill Mesa
For Friday, then, we decided to visit the Wetherill Mesa first—it was a good choice for our first day. Wetherill Mesa is quiet, and our family likes quiet (as a rule). We saw other people, but felt like we had the place to ourselves most of the day.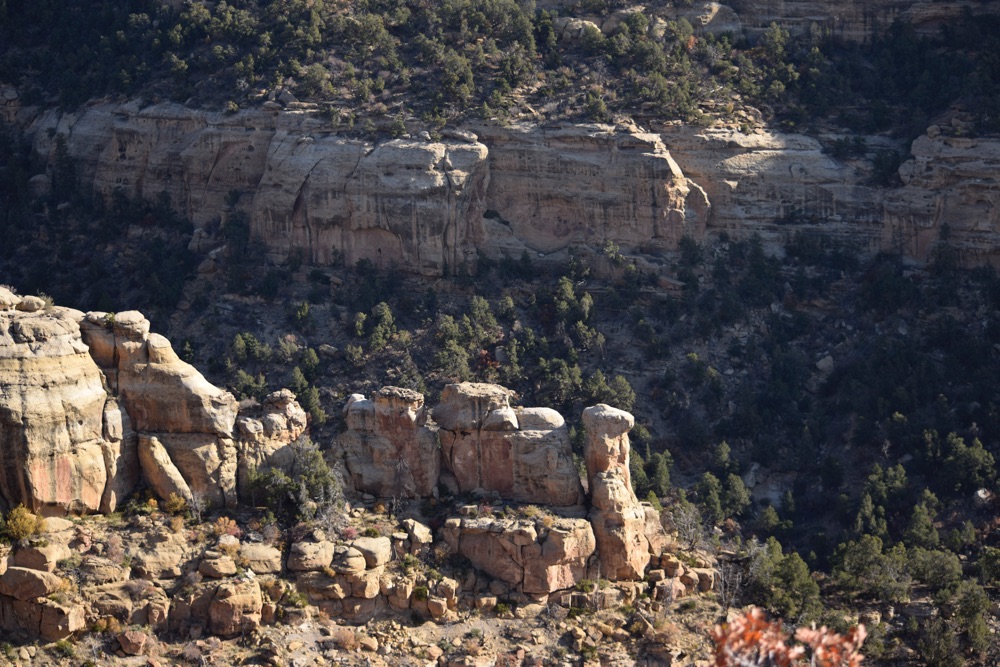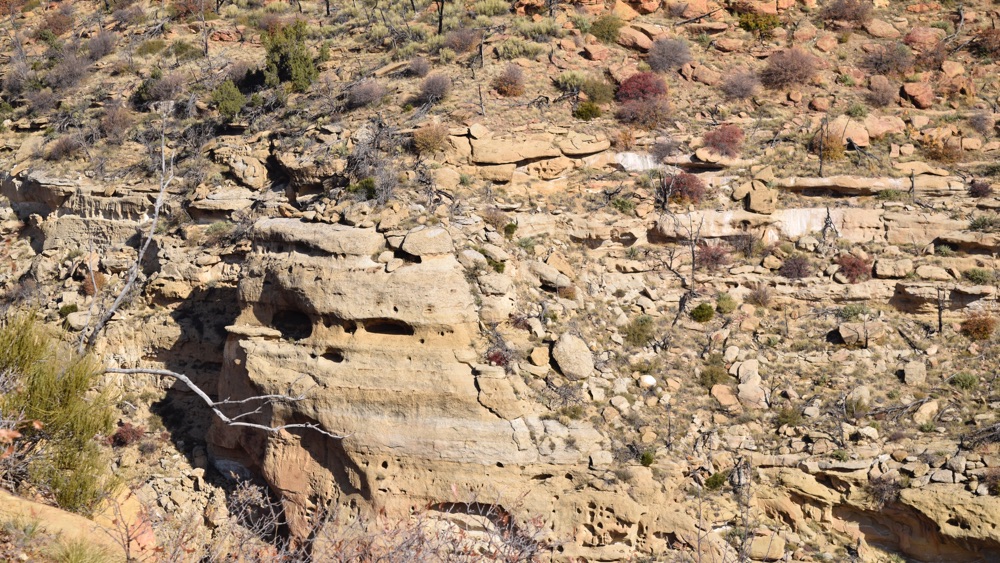 If you give your camera to the kids, you will get half of your SD card filled with photos like this (at least the lighting is nice):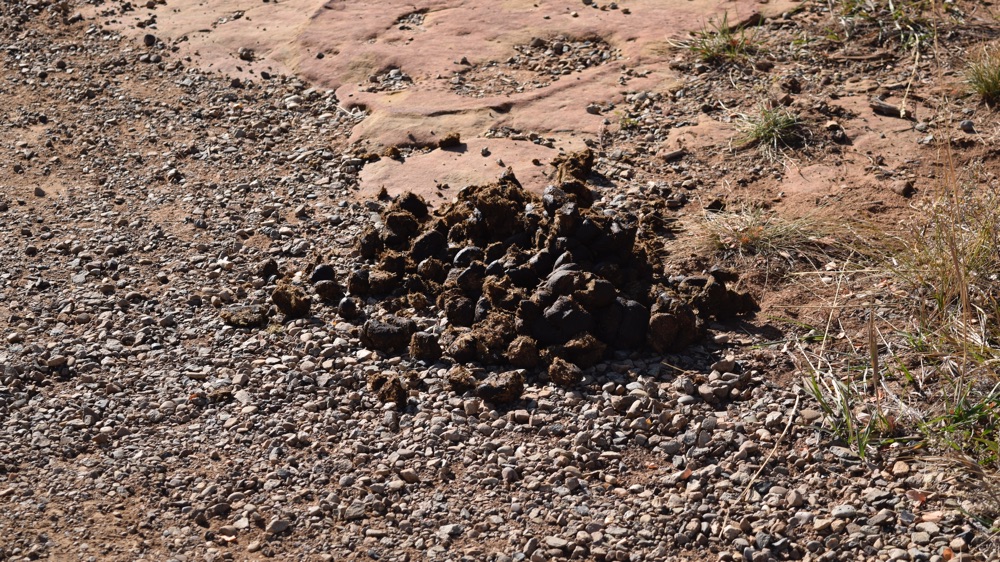 We saw a few small tarantulas: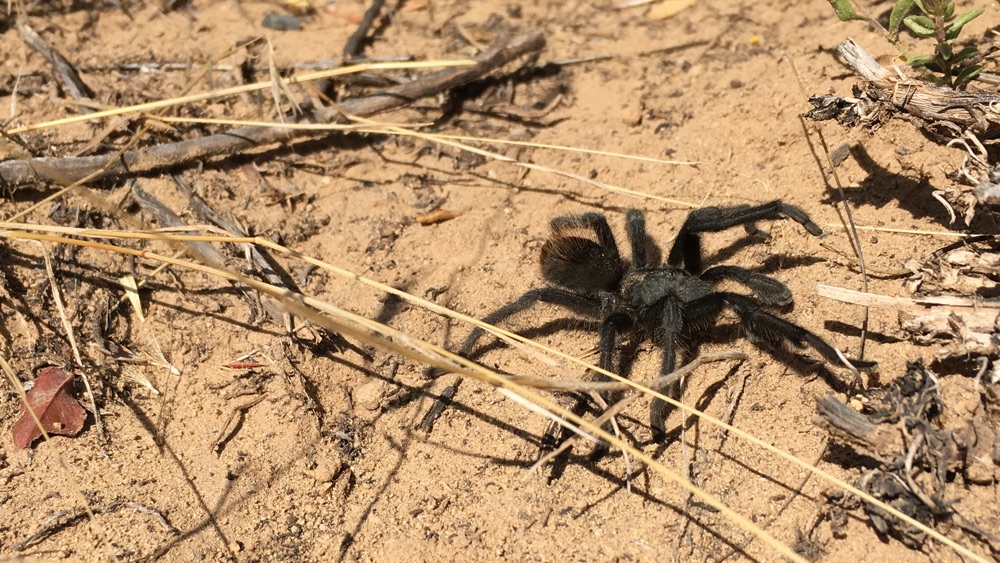 Dozens of fires have burned sections of the juniper forests over many years. These fires are nearly always caused by lightning on the high (over 7000'/2000m) plateau. With the dying grass of autumn, I thought it was beautiful.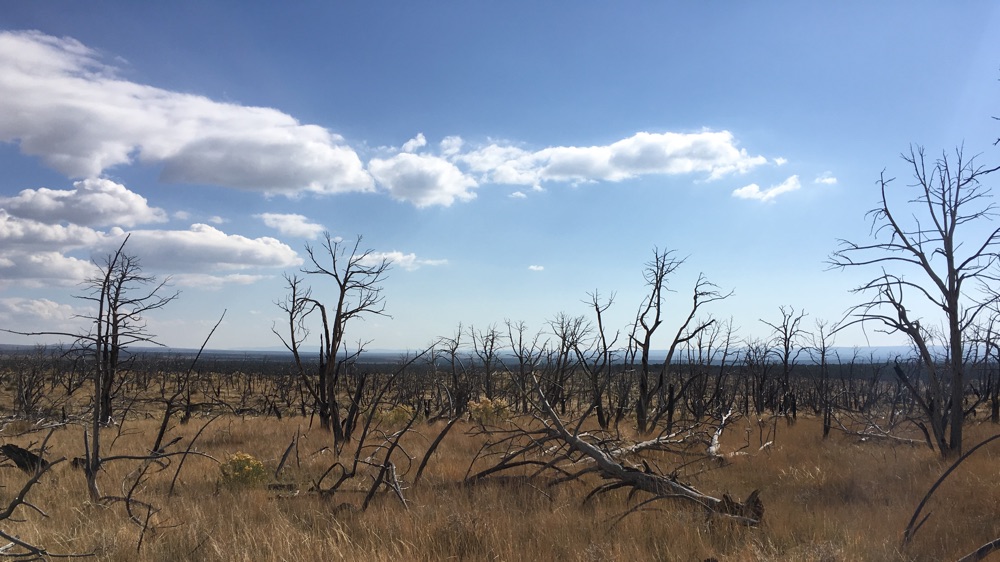 The forests in this high desert take somewhere on the order of 200 years to recover.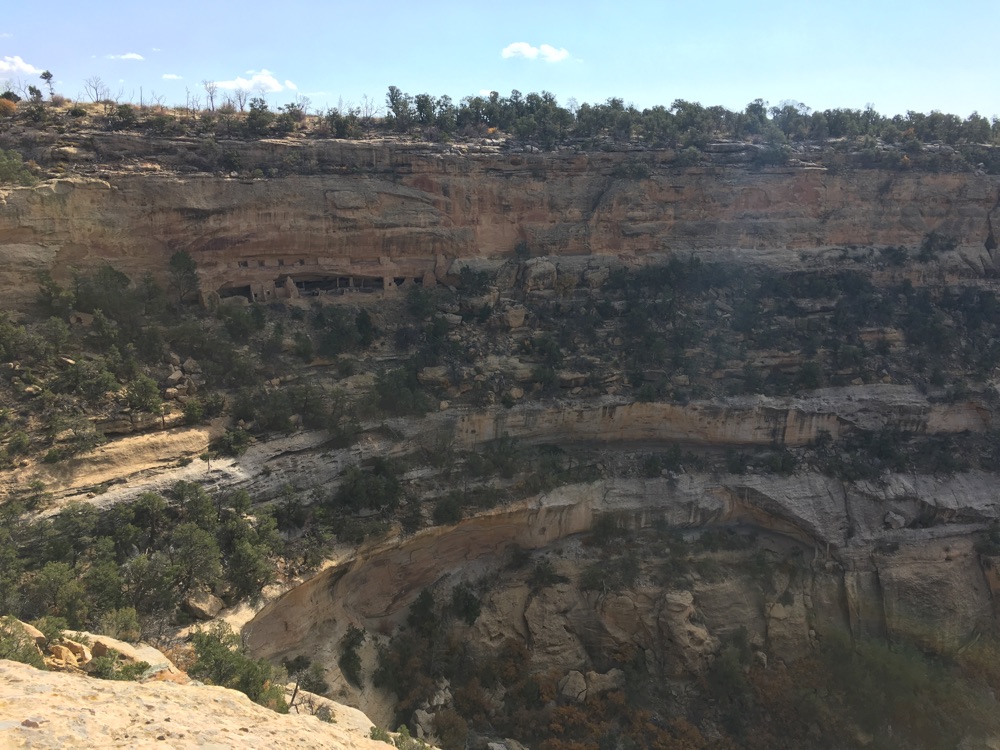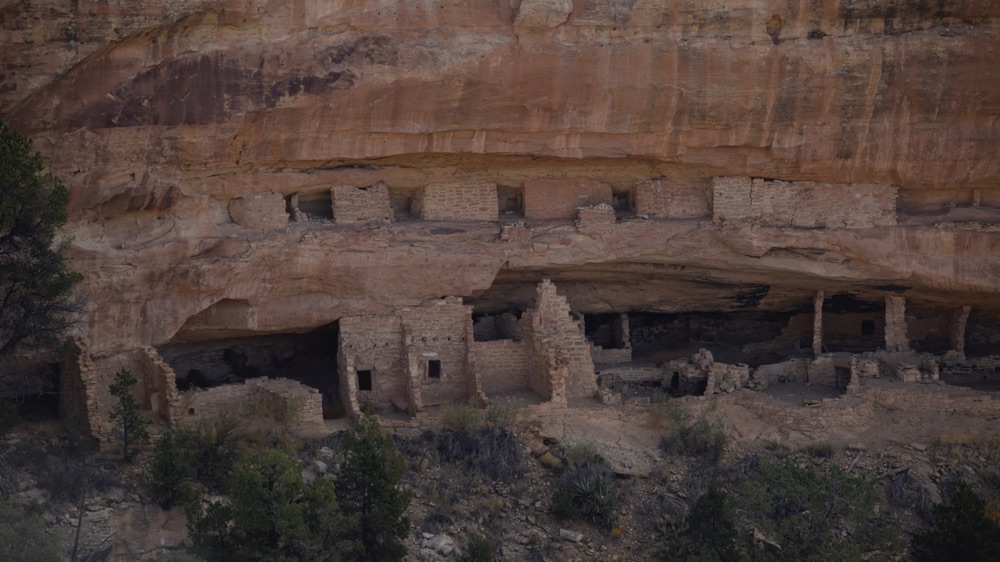 We saw a few wild horses: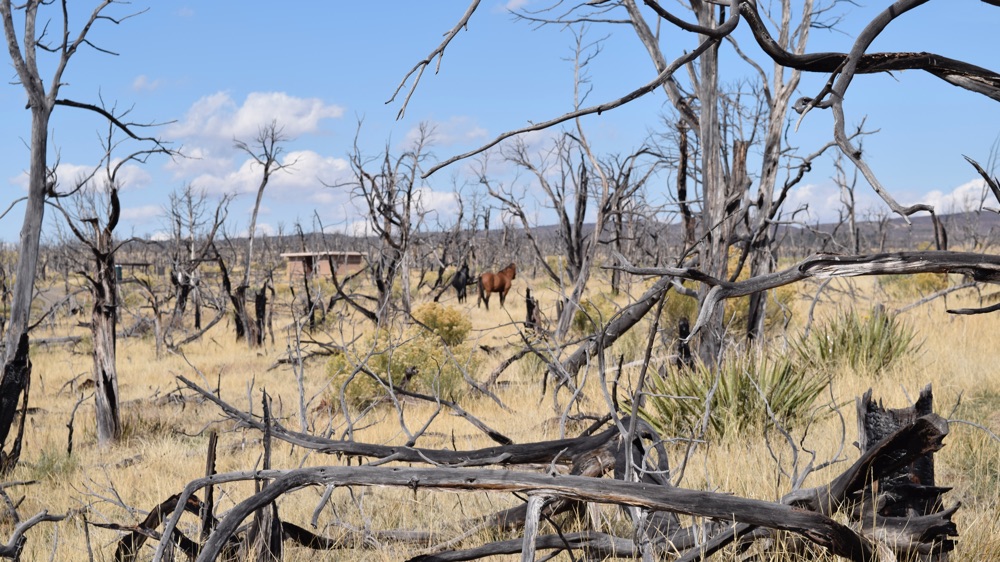 It was a little spooky for mid-day: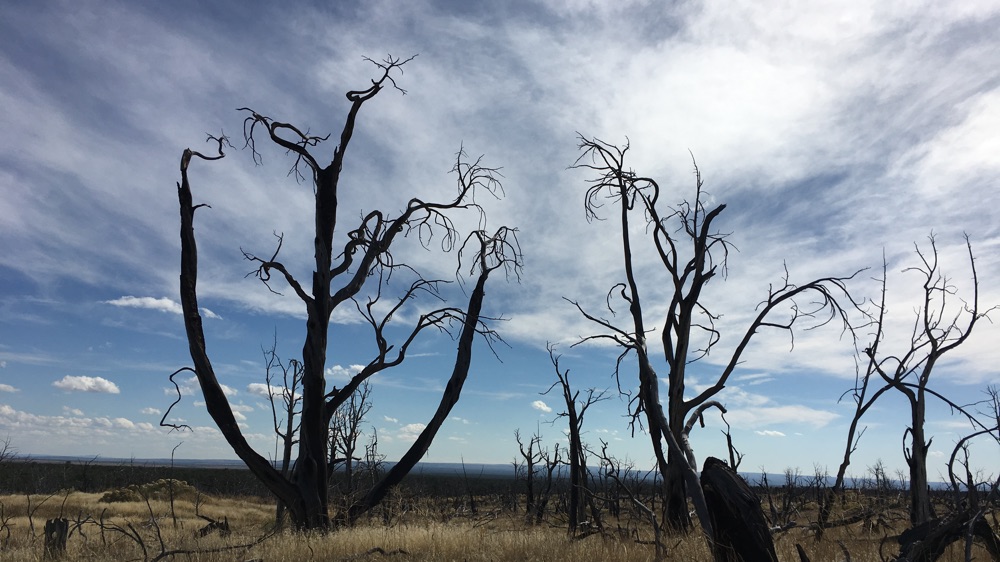 The tarantula crossed the road. Mu.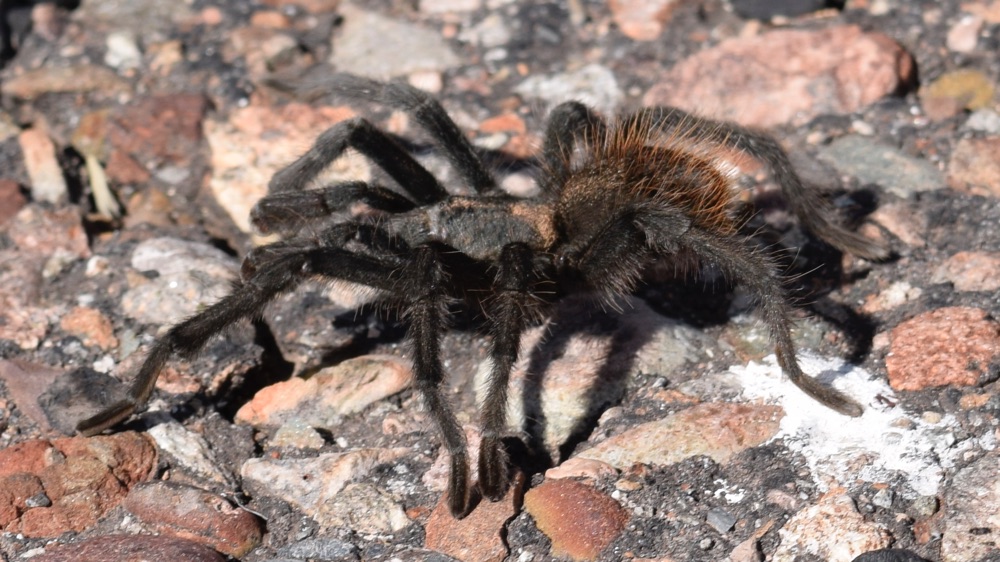 We visited the Long House overlook. The tours for Long House were sold out the day before. You can see the line on the mesa where the fire did not pass:
This was pretty much it for Wetherill Mesa (I didn't include photos of Pueblo Village, which was interesting to visit, but my photography skills do not do it justice).
Chapin Mesa
We drove back to the lodge to rest for an hour or so, then spent the afternoon on Chapin Mesa, to see as much as we could so that Saturday we could dedicate to the Balcony House tour and long drive home.
We stopped first at Spruce House, which was closed for "geologic instability". Apparently some rocks are loose and the park doesn't feel safe letting visitors roam around.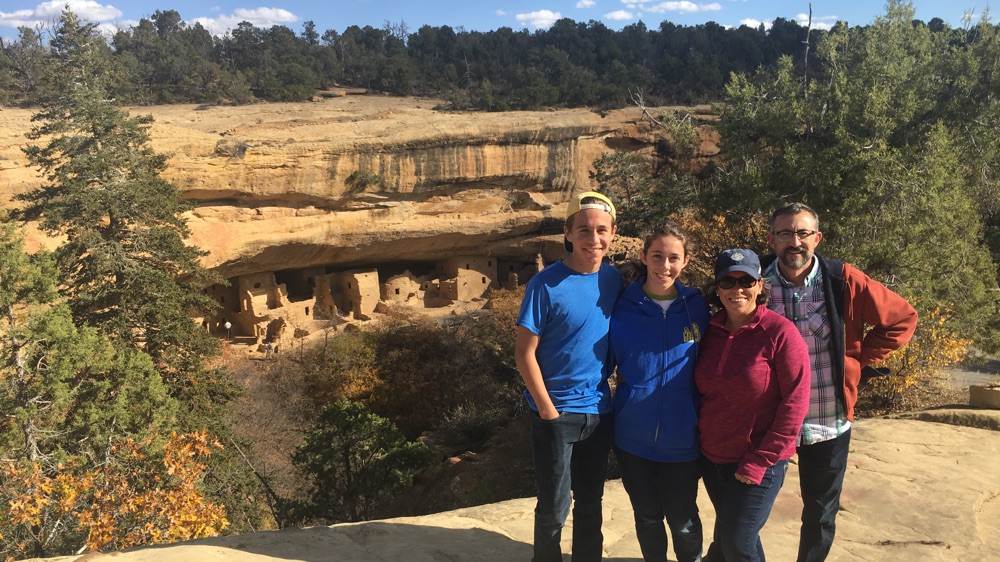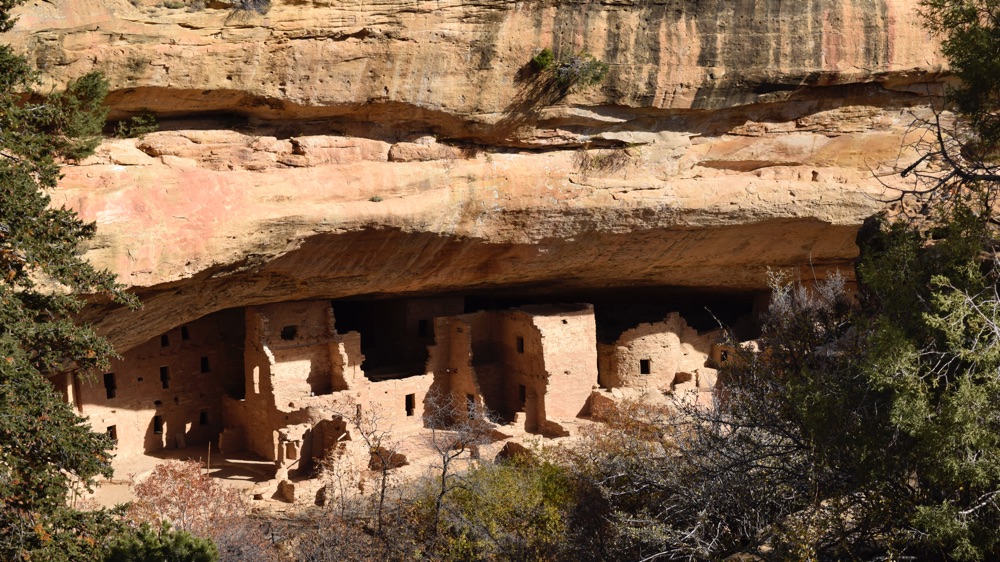 The instability didn't seem to frighten this proud couple with an infant. As we passed them on the trail, the father informed us, with a touch of defiance, that they had just been in the ruins (we, and many others at the museum above saw them) and they got in by hopping over the gate. Astounding.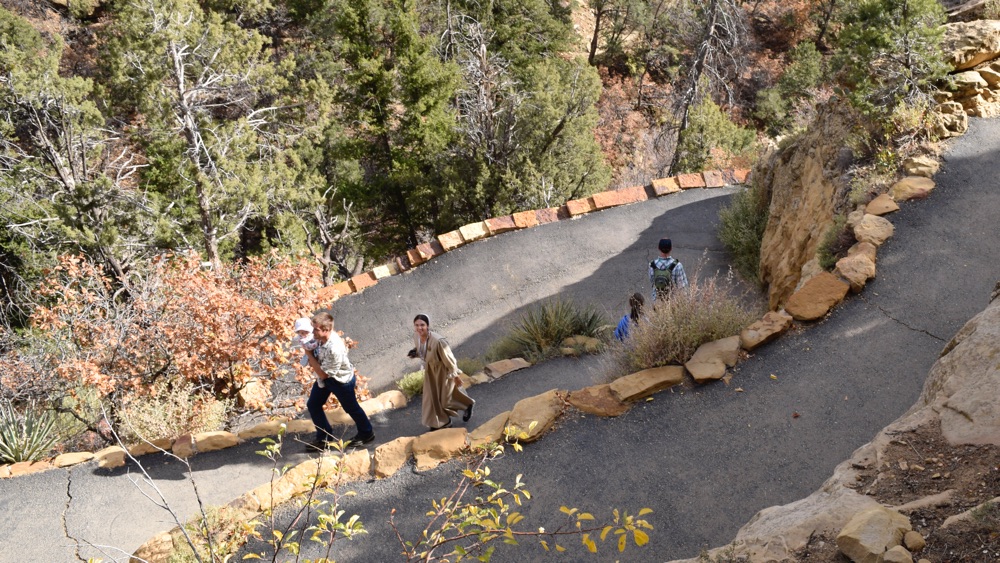 They didn't seem like the kind of people who respect the authority of the federal government much, so we just let it go and went on our way.
Petroglyph Trail
From the ranger station you can also hike to the petroglyphs. It's marked as 2.4 miles, but we must have done a little extra wandering (or my GPS is off).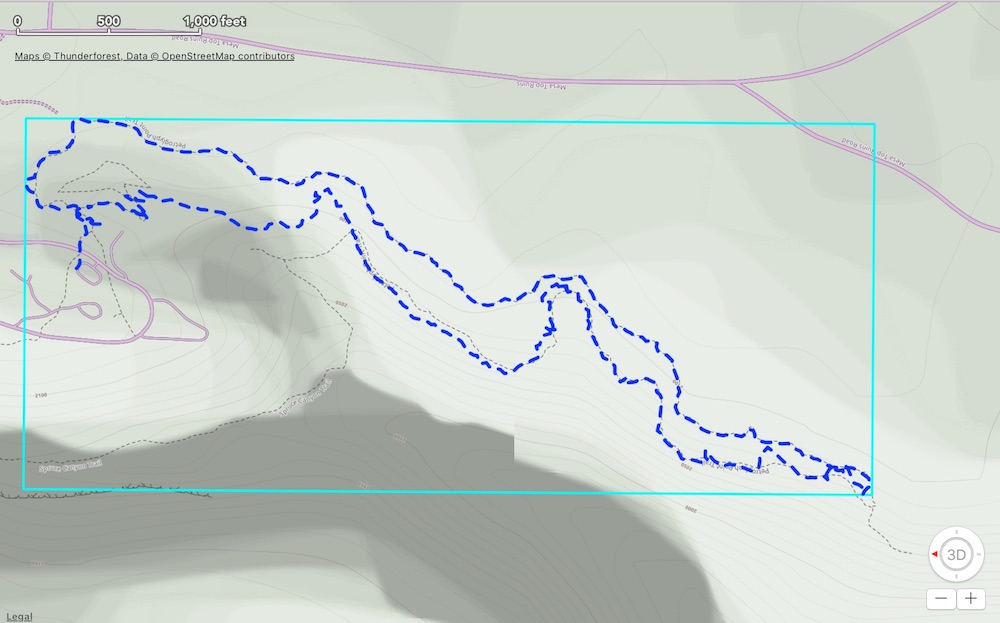 The loop itself has a total elevation range of 7000' down to 6750' and back again to 7000'.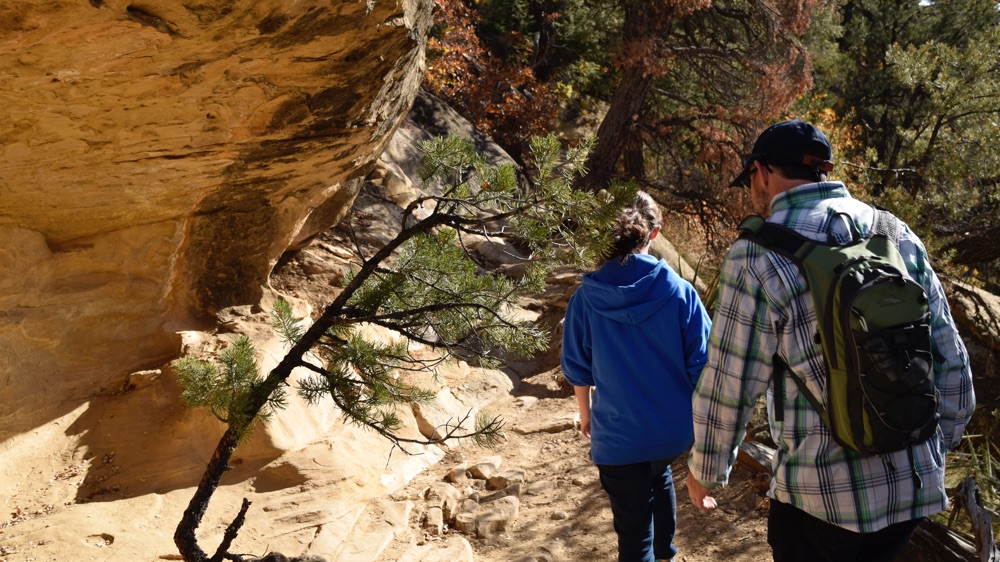 A couple of narrow gaps on the trail: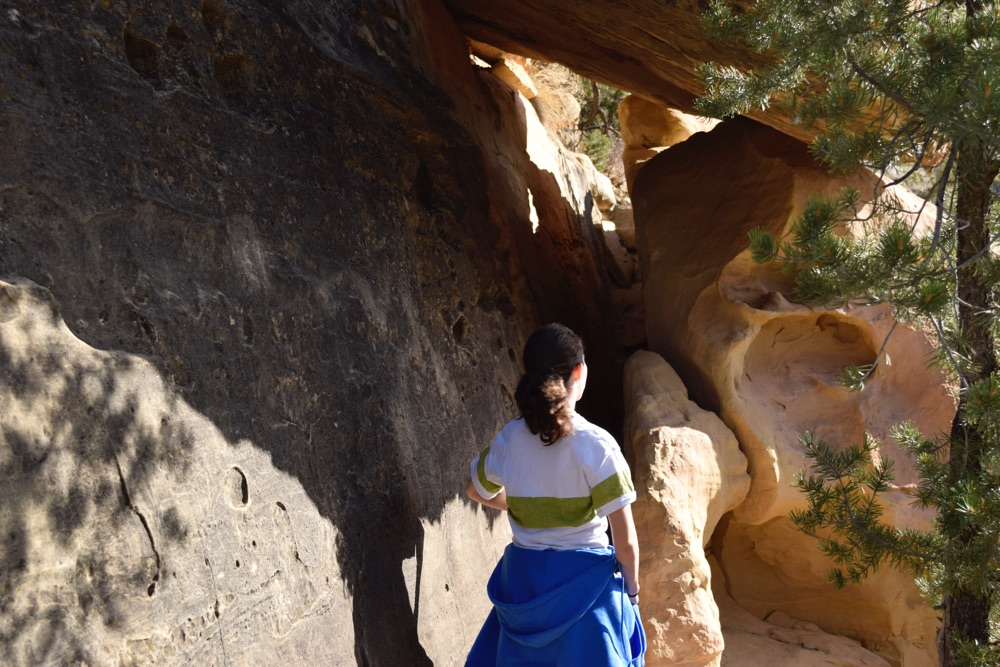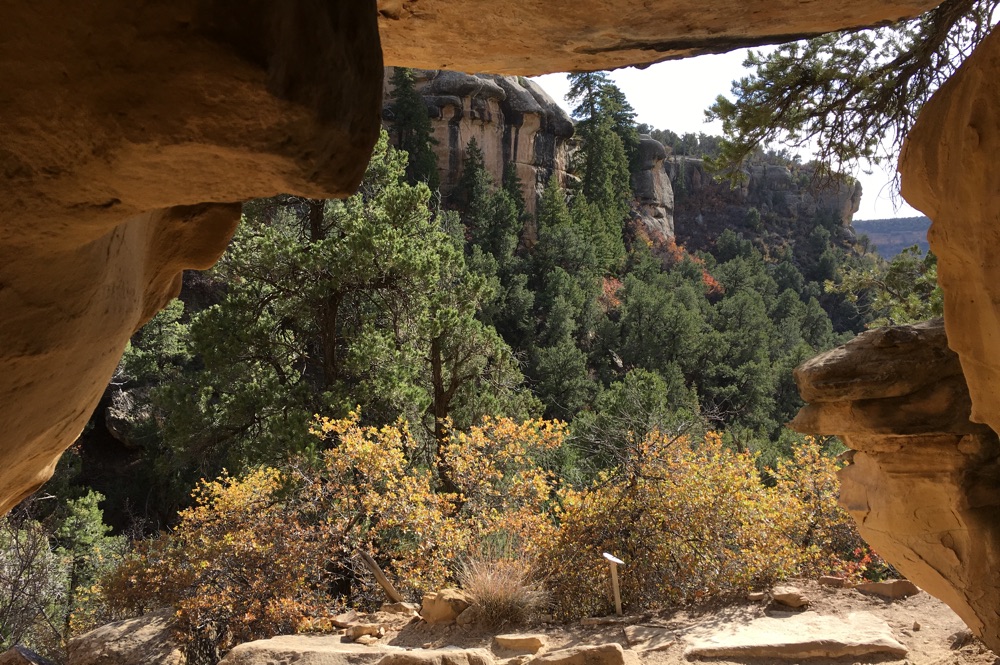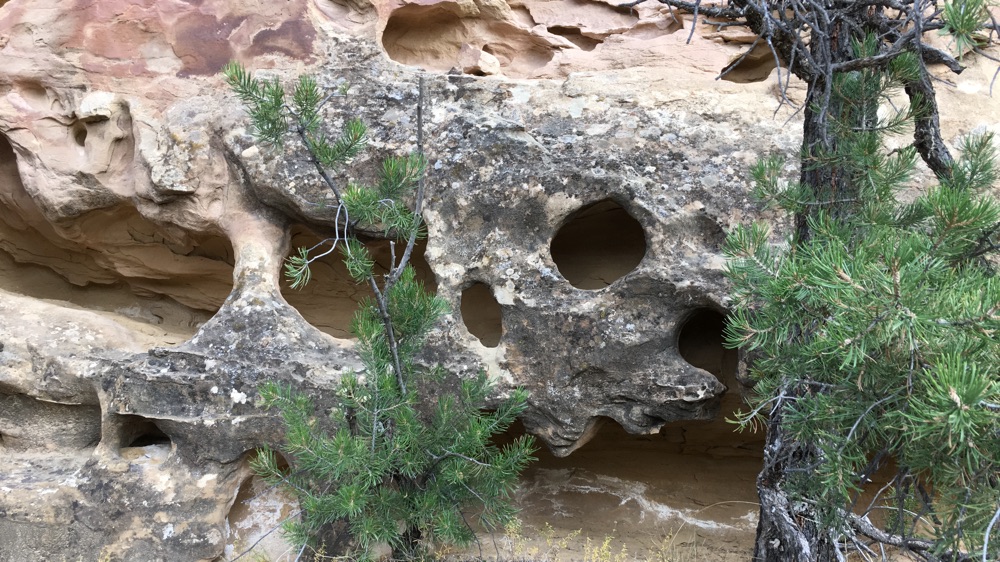 A little fuzzy, but you get the idea: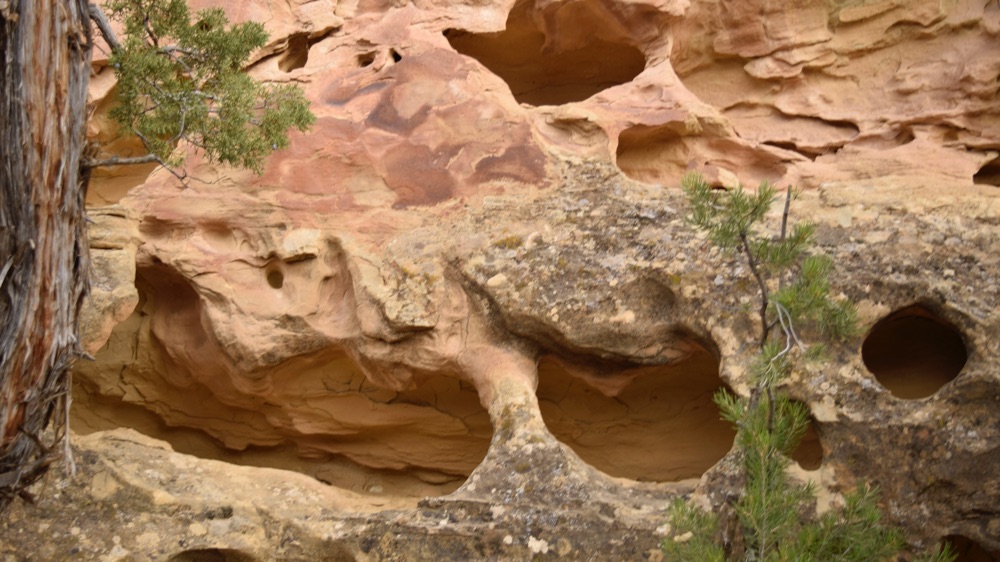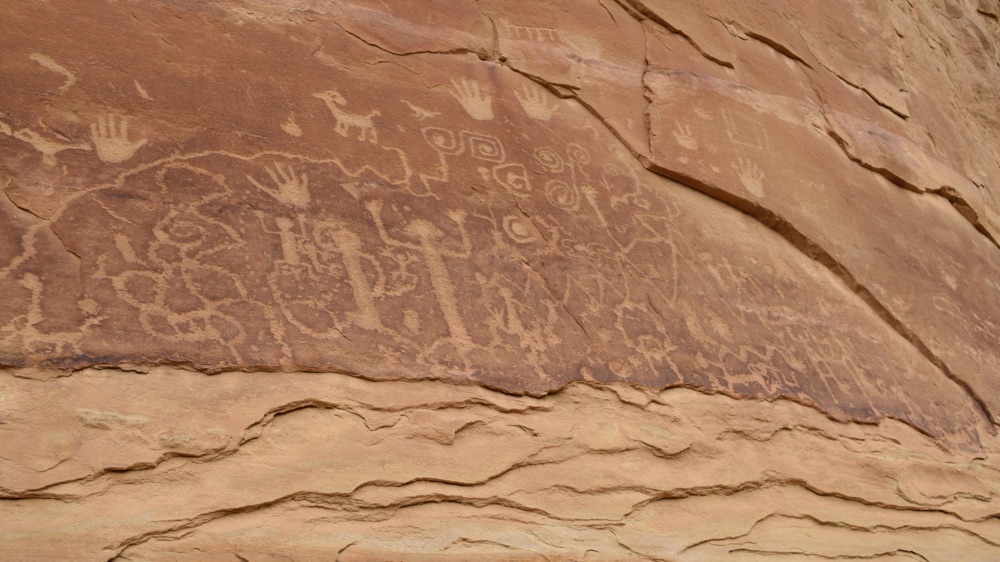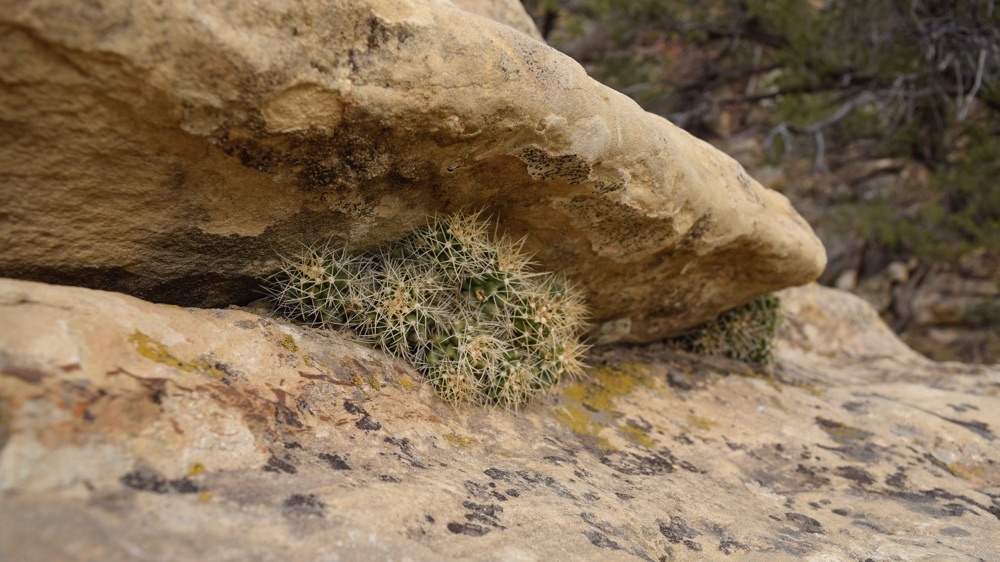 And coming around the bend to where we started: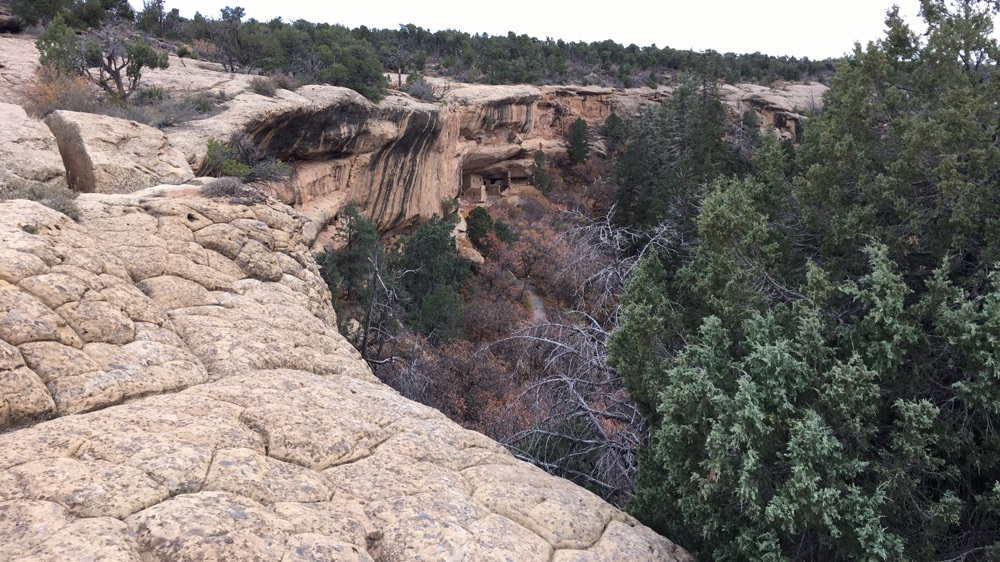 We completed the 2.75 mile loop in 1 hour, 22 minutes, with 15 minutes to stop and look at things (we were hiking pretty briskly while we were moving).
We had enough energy left to finish driving the Chapin Mesa to see a few more overlooks and kivas.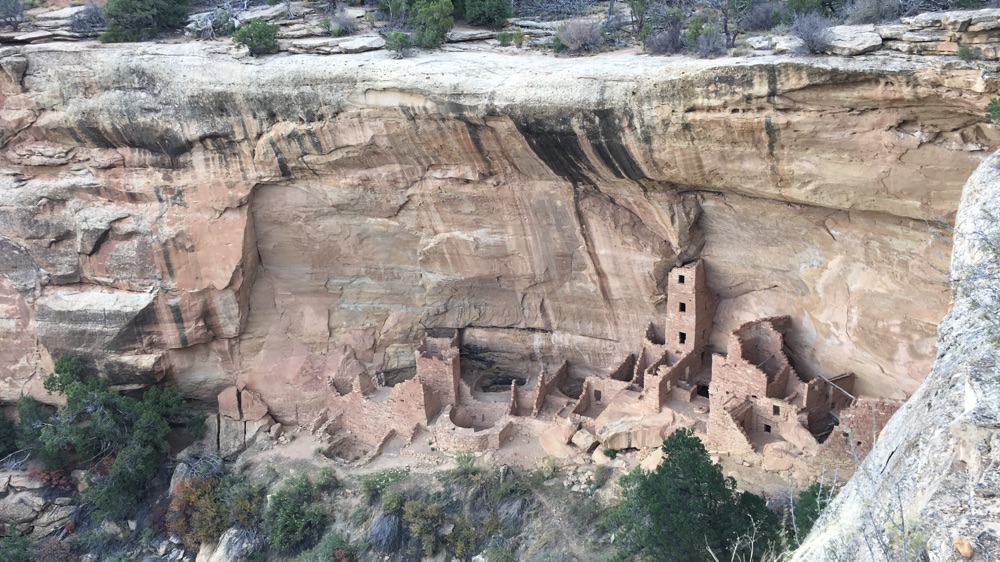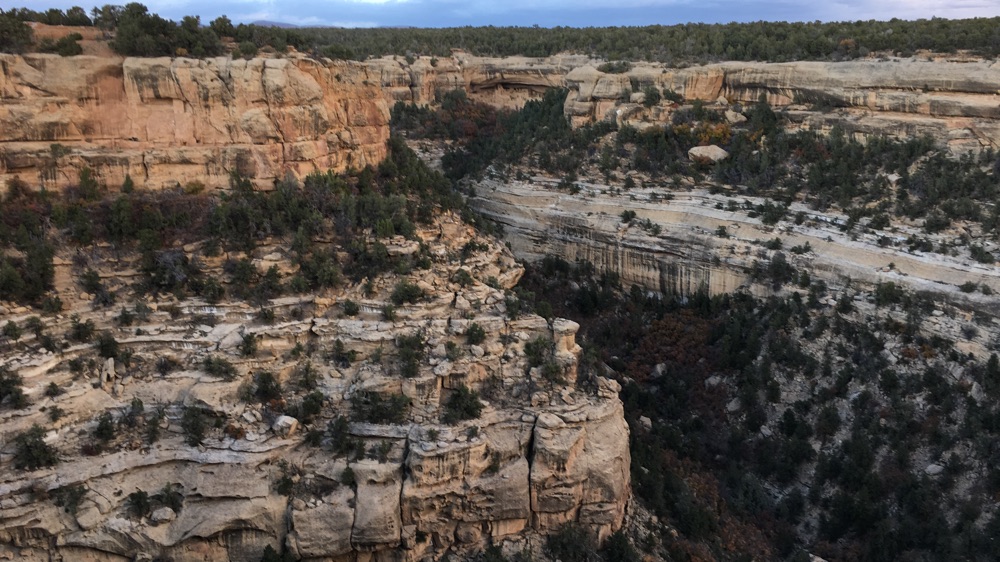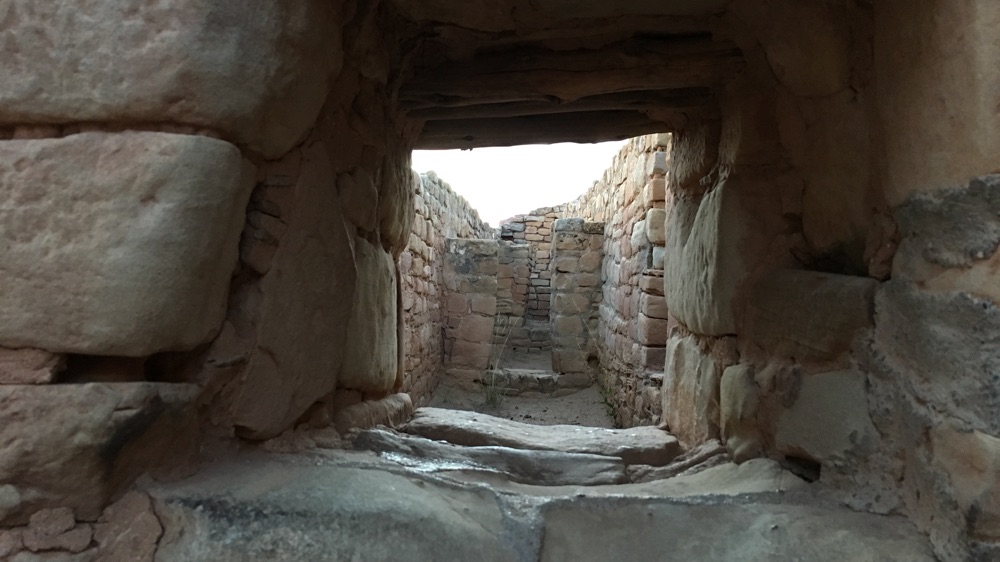 I popped my phone lens into the eyepiece of one of the view finders overlooking Cliff Palace: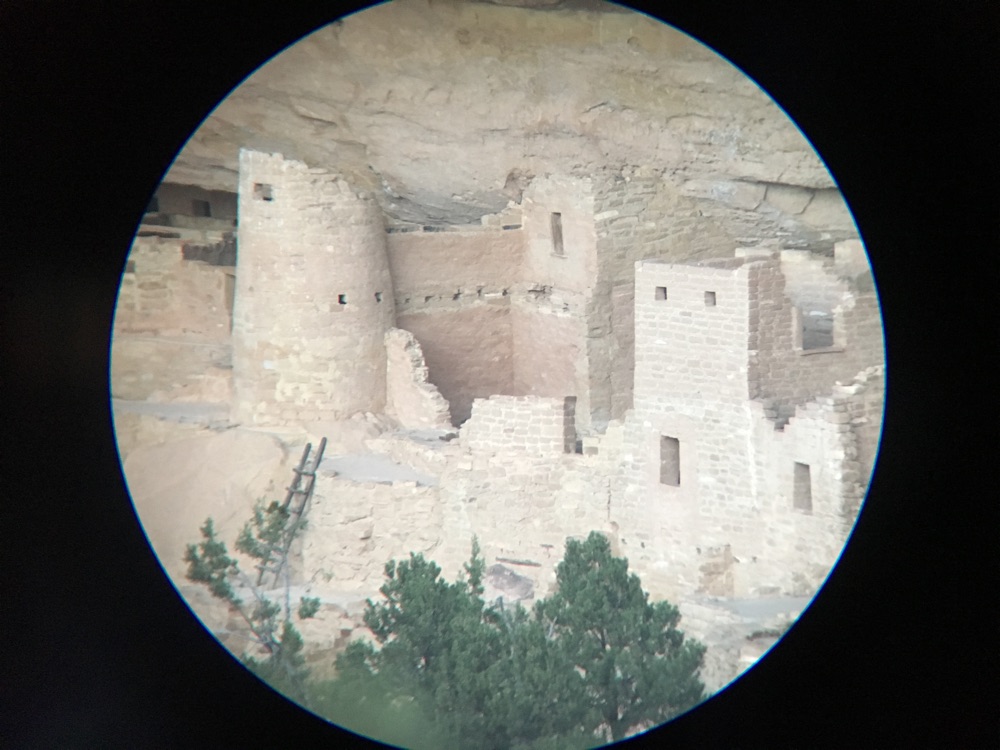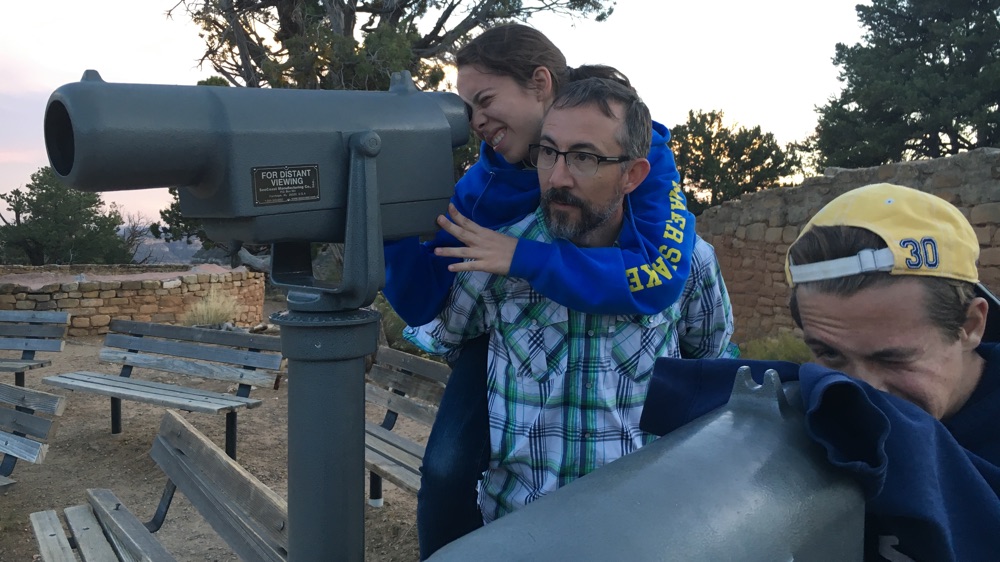 Having seen as much as we liked, we turned back to the Lodge. Dining options this time of year are limited to the Metate Room and the Lounge upstairs. They share a kitchen and a couple of menu items, but the Metate Room is generally fine dining, while the Lounge is casual.
Friday Night Dining
We ate at the Metate Room Thursday night—no complaints. Friday we tried the Lounge and waited about 20 min for a seat and then nearly an hour for food to arrive. There must have been some mix up in the kitchen, as other guests who came after us were served before us. Our server comped the entire meal—again we protested, but she said the chef was in charge and this was his doing. They even offered us dessert, which was a nice touch.
When we got to our room, we found that the wifi had gone out. We called the front desk and they said that they knew about it, that the ISP had been called, and that they'd send someone next week. lulz.
Saturday at Balcony House
Saturday morning was much cooler than the previous days, so we bundled up and drove down to a few more overlooks on the Chapin Mesa loop before our tour at Balcony House.
We arrived at Balcony House about 10:00a (half an hour before our 10:30a tour), and saw the group ahead of us gathering around the ranger. I figured it wouldn't hurt to ask if we could go a little early (we were a little worried about making it home at a reasonable hour).
The ranger was kind and thought that would be fine to have four extra (it's possible some of the 10:00a party had not come, I suppose). As I handed over our tickets, a man came from behind and asked the same question, but they had the 11:00a tour.
The ranger said that would be too many, but suggested that maybe we could trade tickets. I gladly gave him my tickets for 10:30a, so we all got to move up half an hour.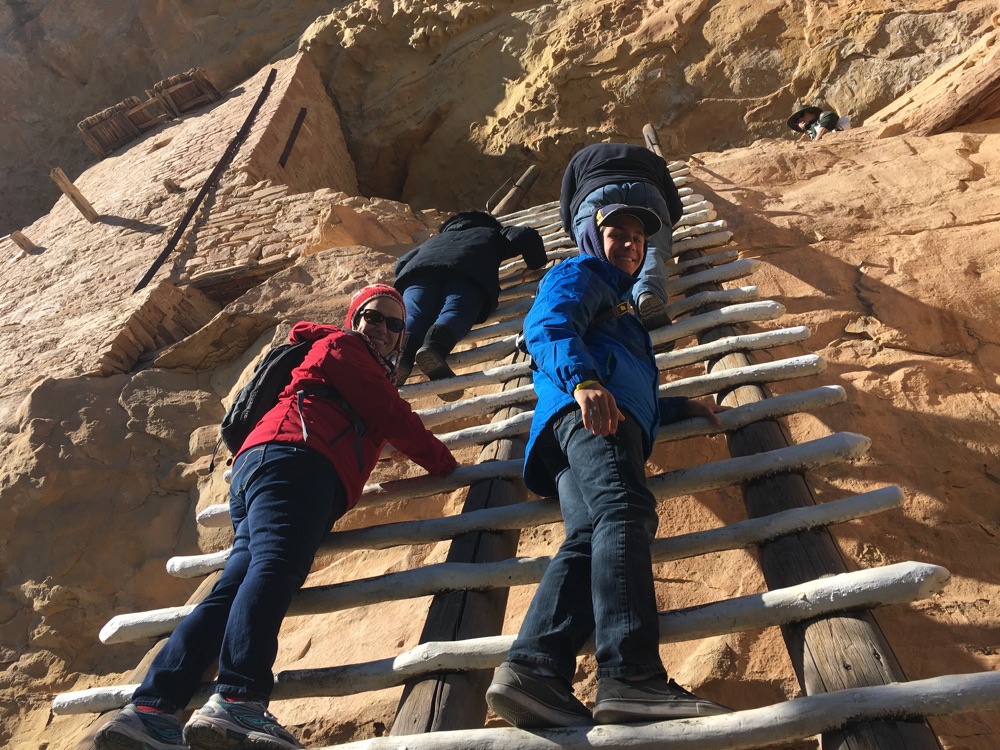 The Balcony House tour was worth it (I believe we paid $5 each). These cliff dwellings must have been pretty hard scrabble living. All of the dwellings are built at the same level of geology, just above the shale level where the water is forced out of the sandstone.
We wondered what percentage of the people in the region lived in these places versus on top of the mesa. Were they elites in their society or outcasts?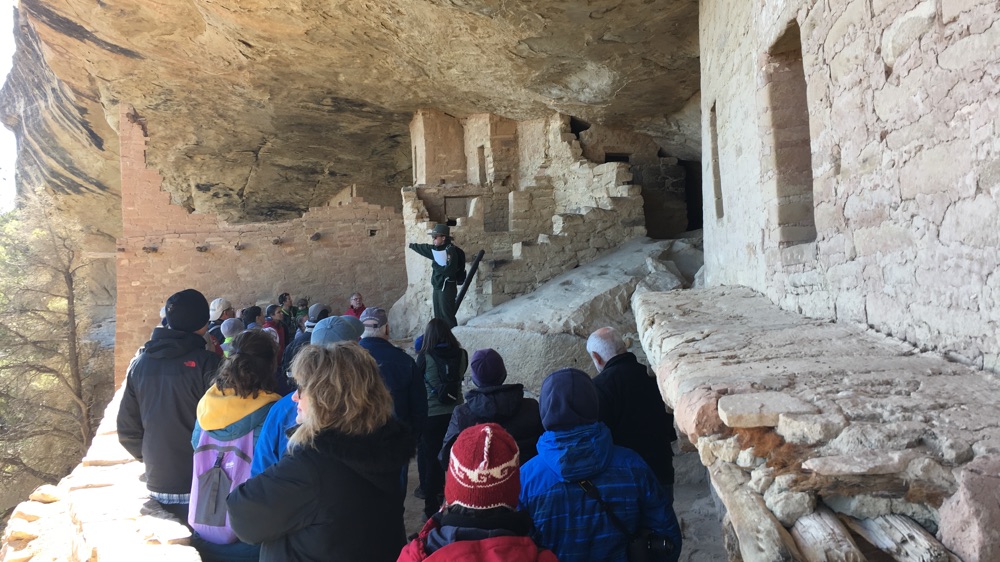 Kivas have a sipapu, which is something I learned. I think my photo is better than the one on Wikipedia.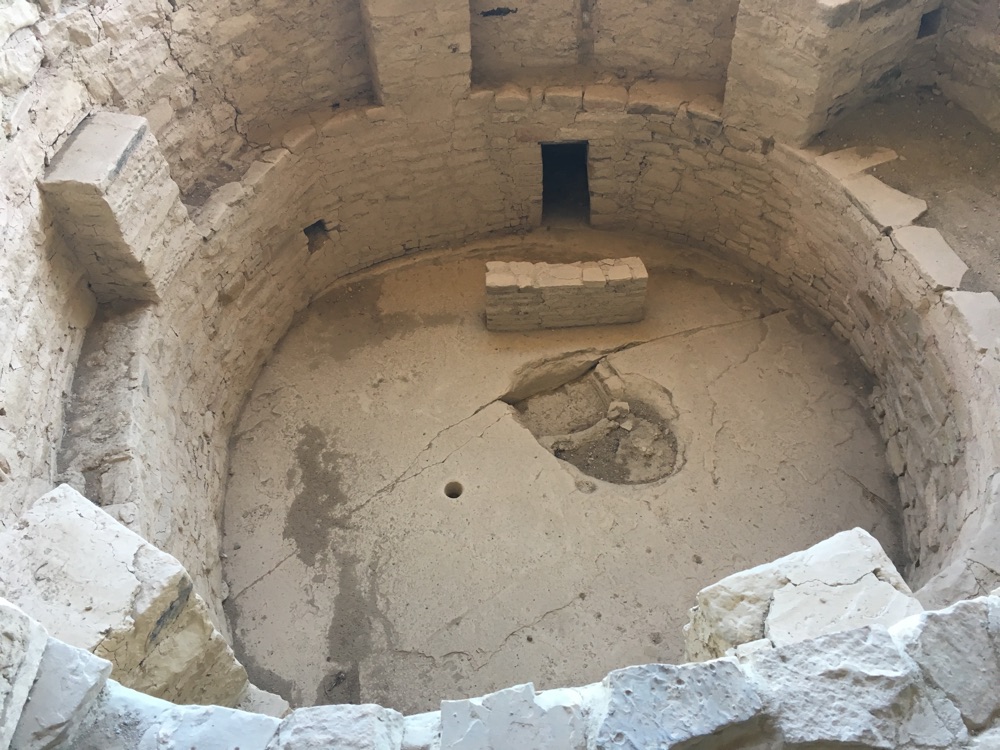 Don't look back during the climb out if you have fear of heights or widths.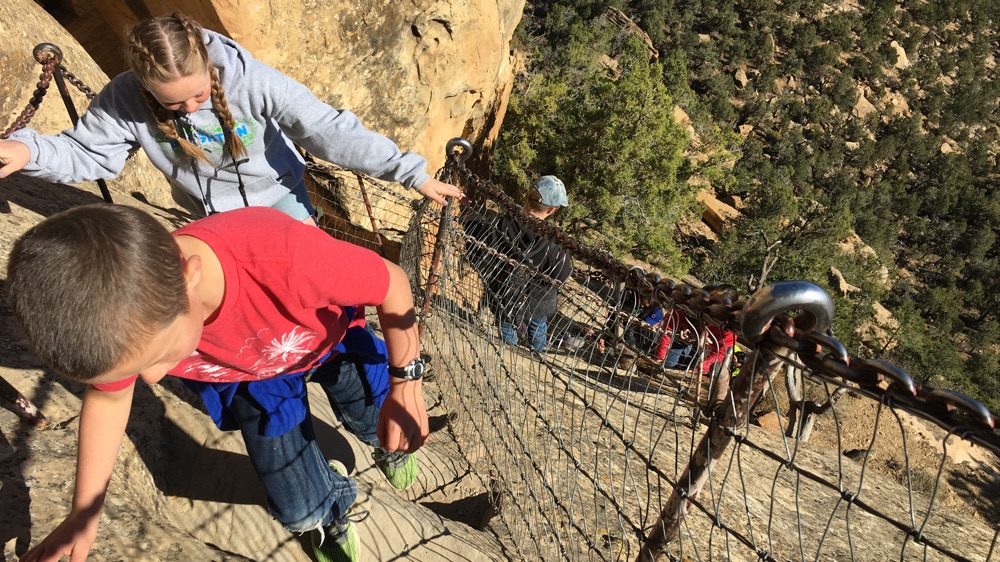 Notes
Some odds and ends that didn't fit in the narrative above.
Phone
T-Mobile service in southeast Utah and southwest Colorado is pretty terrible, though there were occasional spots on the mesas where I was getting LTE. By and large, if you have T-Mobile, do not plan on having either cell reception for voice or data.
Jonathon, I tried calling you in Monticello three times(!), but none of the calls seemed to complete. I'll call ahead while I still have coverage next time. Plus it was late… 😐
Wifi
The wifi in the Far View Lodge was tolerable for Thursday night and Friday morning, but it went out Friday afternoon and did not come back before we left Saturday.
The Sky
The sky is just as it ought to be in this corner of the West: an infinite number of stars, the Milky Way is bright enough to see by. It was good to feel small again.
Lodging
The room we had in Far View Lodge was sub par. There was a sewage odor each time we came back to the room. We would air it out for 2 or 3 minutes and it was fine.
The wall between our room and the room next door were not sound-proofed at all, so we could hear even quiet conversations next door (I'm sure it went both ways).
Food
We brought breakfasts and lunches but decided to splurge on dinners in the park. I think that was a good choice and I'd do that again. If it were high season, I'd consider having breakfast at the Far View Terrace (a mile or so south of Far View Lodge).
---
Last modified on 2017-11-07